World Class Beginner Surf Spots: Best of Every Continent
Have you decided to take up surfing but the ocean isn't around the corner? Or maybe you want to learn the ropes during a surf trip? 
Easy and safe beginner's breaks are not accessible to everyone, nor are surf schools. The best surfing spots for learners are those where you can find a welcoming and supportive surfing community, high-quality (and possibly low-priced) schools, pleasant weather, manageable waves, and more. 
Sure, that's not everywhere but don't worry, I've got you covered. I once was a learner myself and have done my fair share of traveling, so on this page, you will find the ultimate list of best surfing spots for beginners worldwide.
No matter what continent you're thinking of, you'll have a few great places to ride.
---
What Makes a Good Beginner's Surf Spot?
When choosing where to start out, there are several factors to be considered. 
Price
We're talking everything here, from gear to flights. If it's going to cost you twice your salary to get there, unless you're in for a gap year, maybe you'll want to stay closer to home. And if you don't want to spend over $120 for just one surf lesson, then take places like Norway off your list. 
Weather. Yes, people do surf in the winter, and many even prefer chillier waters. However, beginners can easily be put off by the idea of wearing a wetsuit and facing icy weather. 
Moreover, in many areas of the world, winter waves are great fun for more experienced surfers but may be a bit big and challenging for those who are just starting out.
Community. You want to surf in a place that has a fun and welcoming environment. You'll find like-minded people who are more experienced than you and will likely be happy to provide you with tips and advice. And of course, have a beer and a chat when you get out of the water. 
At the same time, you don't want to be in a packed, hyper-competitive place that will shy you out of the lineup. Balance is key.
Safety. You should not put yourself in unnecessarily dangerous situations. Learning to surf safely is absolutely doable and should be everyone's experience. Find a beach where lifeguards and fellow surfers are close and able to help if necessary. 
Also, starting out on big waves is a recipe for disaster: choose a spot and season where you can find waves sized 1.5 to 2 feet. 
Surf Schools
Unless you have an expert friend who can take you out surfing every day, the best way to learn is with a surf school.
Don't worry: you won't need to spend much time or money. Usually, 2 to 5 surf lessons are enough to learn to surf. Choose one that will be able to offer you personalized help (smaller classes) and professional instructors without breaking the bank.
You can see my guide to having your first surf lesson in the video below:
The Best Surfing Spots for Beginners in Europe
If you think that Europe isn't good for surfing, then think again. Among the perks of learning to surf in Europe feature:
Lots of sandy beaches: this will allow for an easier and safer landing if you fall off your board.
Easy-to-reach breaks: you will not have to drive for hours or paddle far to find the right spot to learn to surf in Europe.
Small waves: Don't get me wrong, Europe is home to some of the world's greatest waves but there are also many locations where you are guaranteed to find mellow yet fun beginner's waves.
Here are the best spots to learn to surf in Europe:
France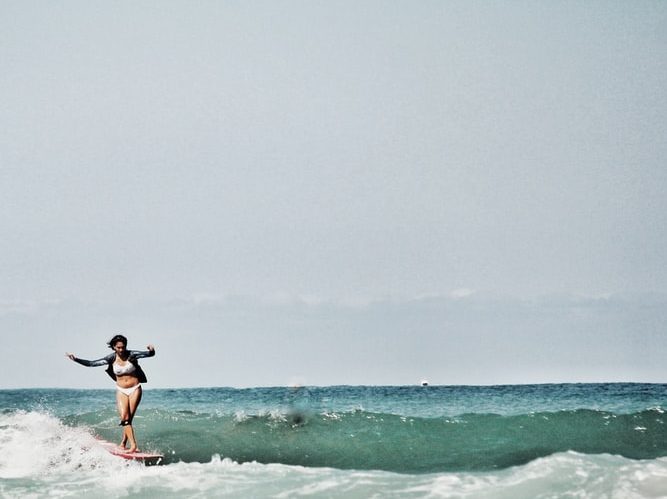 France is by many considered the European capital of surfing. There are countless amazing waves to ride here, however, many can be quite hard to handle for a newbie. Opt for the south of the country and make sure to learn during the summer.
My top beginner's surfing spots in France:
La Torche, Brittany
Bretignolles-sur-Mer, La Vendee
Mimizan, Les Landes
Hendaye Plage (Hendaia), Basque Country
Côte des Basques, Biarritz, Basque Country
Biarritz Grande Plage, Basque Country
Portugal
Portugal is not only great for its waves but also for its culture. The country is charming and the coast is made of a myriad of picturesque fishing villages. You can expect a great surfing community, a laid-back lifestyle, and mouth-watering cuisine. Oh, and most of Portugal is ridiculously cheap by European standards!
My recommended beginner's surf spots in Portugal:
Praia do Tonel, Sagres
Peniche
Guincho, near Lisbon
Spain
Busy nightlife, cheap beer and accommodation, art cities, world-class wine… What's not to like about Spain? I really enjoy coming here for a surf trip and I always end up finding hidden gems in Galicia and the Basque Country.
My favorite beginner's surfing spots in Spain:
Somo, Cantabria
San Sebastián, Basque Country
Razo, Galicia
El Palmar, Andalucia (Atlantic Coast)
The United Kingdom
Yes, you've heard that right. The UK is home to some truly amazing breaks, from Scotland to Cornwall. Just be prepared for colder temperatures and often higher prices than Southern Europe.
My picks for beginner's surfing spots in the UK:
Watergate Bay, Newquay
Belhaven Bay, Scotland
Llangennith, South Wales
Saunton Sands, Devon
---
The Best Surfing Spots for Beginners in Africa
So you've decided to learn to surf but also explore a new area and enjoy an adventure abroad. You like nature, fun cities, new experiences, and affordable prices. Then Africa is for you. 
From colorful and hip Cape Town to the deserts of Morocco, you will not get bored learning to surf in the continent. Keep reading to find the best places to learn to surf in Africa.
South Africa
South Africa is a classic. It's home to a great surfing community and one of the most famous barrels in the world (check out the WSL competition in Jeffrey's Bay for some adrenaline.) 
Recommended beginner's surfing spots in South Africa:
Muizenberg (from February to June)
Coffee Bay (from April to August)
Morocco
Morocco offers long sandy beaches and breaks for all levels, plus the weather is pleasant all year round. 
The surf culture here is strong. It's cheap, fun, and a favorite among Europeans during the summer. You will find plenty of surf camps and schools that will help you learn the basics.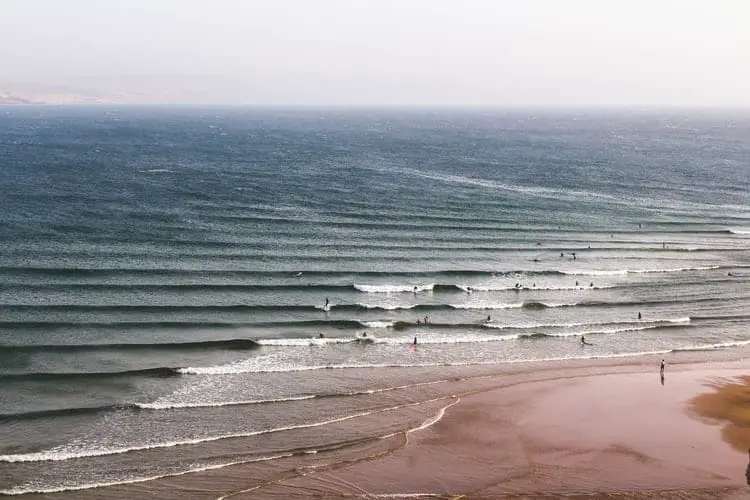 Recommended beginner's surfing spots in Morocco:
Immesouane (January to March)
Taghazout (September to April)
El Jadida, near Casablanca
Where to Learn to Surf in Asia
Asia is not only huge but also extremely varied. If you ask aficionados why this continent is their top spot for holidays, you'll get a lot of different answers.
Some will praise the fragrant cuisine, others will tell you about the animal sanctuaries where you can see some of the world's rarest wildlife, and many return to visit more of the ancient temples and archaeological sites that are hidden deep in the jungle.
Southeast Asia, in particular, is a favorite among young backpackers and digital nomads who can travel the region for months on very tight budgets. 
From Bali to Japan, there is something for everyone in Asia, even more so if you want to pick up surfing. Just keep in mind seasons and monsoons when planning your trip.
Indonesia
Indonesia is a real Southeast Asian classic. Locals are welcoming, there are as many islands to explore as you wish, and plenty of popular towns if you like to party.
With a bit of research and for a fraction of the price (Indonesia is one of the most affordable locations on this page) you will find beaches that rival those of Australia and Hawaii.
My favorite beginner's surfing spots in Indonesia:
Kuta Beach, Bali
Batu Bolong, Bali
Batukaras, West Java
Nemberala, Rote, Timor
Sri Lanka
Sri Lanka is one of the best places in Asia for beginners as it offers long sweeping beaches. Waves are gentle and steady.
The best season to surf for the first time or brush up the basics in Sri Lanka is from November to March.
My favorite beginner's surfing spots in Sri Lanka:
Ahangama Coastline
Weligama Beach
Unawatuna Beach
Arugam Bay
Japan
It may be surprising to some, but Japan is actually home to several top surfing locations. Thanks to over 1,800 miles of coastline and the Pacific swell, good surfing conditions are available all year round.
My favorite beginner's surfing spots in Japan:
Southern Beach, Chigasaki, Kanagawa
Shikoku (best time between June and November)
Naha, Okinawa (easier to start here as the rest of Okinawa presents coral reef and other tricky conditions)
Philippines
The largest archipelago in the world presents literally thousands of idyllic islands and beaches to explore. From surfing to swimming with sharks, the Philippines makes for the adventure of a lifetime.
Recommended beginner's surfing spots in the Philippines:
Baler (December to February)
Eastern Samar (October to April)
---
Beginner's Surfing in South America
What do you think of if they say South America? To me, this continent means crazy surfing conditions, pura vida, colorful culture, and affordable accommodation. South America is vast and varied but it's stunning all around. There are high chances you will fall in love with this place and keep coming back.
There is an infinity of surf schools and camps in South America. If you're shy, you will feel at ease here thanks to the great number of fellow beginners who come to learn and have a good time. Just be aware that the Pacific Ocean may require you to wear a wetsuit.
Colombia
Colombia has the best of 2 worlds because it's touched by both the Pacific Ocean and the Caribbean. The Caribbean waters are warm and docile, perfect for starting out. The Pacific beaches will be more challenging and deserted, great for when you'll feel more comfortable.
The summer season is from December to January and then again in July. Rain will be heavy in April, May, October, and November.
Top beginner's surfing spots in Colombia:
Ecuador
This small South American country is often overlooked by travelers. But here's the kick: it's warm (no wetsuit!) and amazingly affordable. In fact, Ecuador is the cheapest place in the world to take surfing classes, one lesson will set you back less than $20. 
The wet season runs from October to May but water temperature will still be warm.
My favorite beginner's surfing spots in Ecuador:
Costa Rica
Unlike other countries in the region, Costa Rica has been a famous surf spot for decades thanks to amazing and well-known breaks such as Witch's Rock, Salsa Brava, and Playa Hermosa (ideal for expert surfers.)
There are countless schools here for you to pick from. FYI, Costa Rica is a bit pricier than other Southamerican countries.
The biggest and most challenging swells are in June, July, and August.
My favorite beginner's surfing spots in Costa Rica:
Playa Tamarindo
Playa Guiones
---
Where to Learn to Surf in Australia
So you may be very familiar with the fact that Australia is among the best places on the whole planet to surf. The culture, the beaches, the swells… people here start surfing at a young age and never stop, and surfing is a big part of the Australian lifestyle.
However, one thing is to go out every day before work, another is to learn to surf in packed lineups or (much worse) in isolated and dangerous waters.
In general, it's best to travel during the Australian summer (November to January) when the waves are smaller and most schools are open. However, please note that Australia is a vast country and each State has different weather conditions and seasons.
My favorite beginner's surfing spots in Australia:
First Point, Noosa Heads (Queensland)
Clarkes Beach, Byron Bay (New South Wales)
---
Learning to Surf in the United States
If Australia didn't ring a bell, then California and Hawaii most certainly will. If you want to surf the USA, you're in for a treat as there are virtually endless locations and schools for you to choose from. Sure, it's a more expensive place than Southeast Asia and South America, but it's definitely iconic. 
I'm not going to lie to you, the best-quality surf is found in Hawaii and California. However, this doesn't mean that you can't learn on a beach in Florida, New York, or even Maine. If you have time to explore, you'll find plenty of gems to have fun with.
My favorite beginner's surfing spots in the United States:
Waikiki, Hawaii (learn during the summer but go watch the pros compete at Pipeline)
San Onofre State Beach, California
Cocoa Beach, Florida
Long Beach, New Jersey