Where to Surf in February for Beginners: 6 Best Destinations!
Planning a surf trip is tricky with so many places to choose from, especially for beginners.
However, not all surf destinations are created equal: some have perfect set ups for learner surfers with welcoming surf schools while others tend to the more hardcore, big wave and desolate spots, catering only for advanced riders.
With this in mind, below is a list of the best surf spots in the month of February for beginners, based on my own experiences of many of the destinations as well as from seeing my wife learn to surf over the last few years.
I've put together a list for every continent to mean that somewhere on this list will be near enough for you to get to for your learn-to-surf fix!
Let's get to it!
---
Florida: Atlantic Coast
Florida is not often at the top of every surfer's list because it doesn't get huge waves but, for that very reason, it is an ideal place to learn to surf!
Since it gets most waves from November to April, February is an ideal time to learn to surf in Florida.
Another advantage of Florida over many other surf destinations in the continental USA is that it has warm water year-round, meaning wetsuits are an optional extra, even in the month of February.
This makes it an ideal 'winter surf destination' for northern hemisphere surfers and learners alike.
Cocoa Beach and Melbourne Beach both have a range of surf schools to choose from as well as catering really well for tourists.
Another nice point about Florida in February is that it is much less humid than the summer months. Having been to Florida when I was a kid in July, I remember it seeming like I could barely breathe with the intense humidity and heat, so going in February means you'll be avoiding that.
One downside to learning to surf in Florida is that there are spells without waves, but learning to surf only needs really small waves, so don't let that put you off.
---
Australia: Byron Bay, NSW
Australia has long been known as a surf destination but there are some spots in Australia that make learning to surf an absolute joy.
Having spent close to two months surfing and traveling up and down Australia's east coast back in 2003, I can seriously vouch for Byron Bay as a winter surf holiday destination.
I had some of the best surfs of my life there as an intermediate surfer, while friends who were learning absolutely love it, too.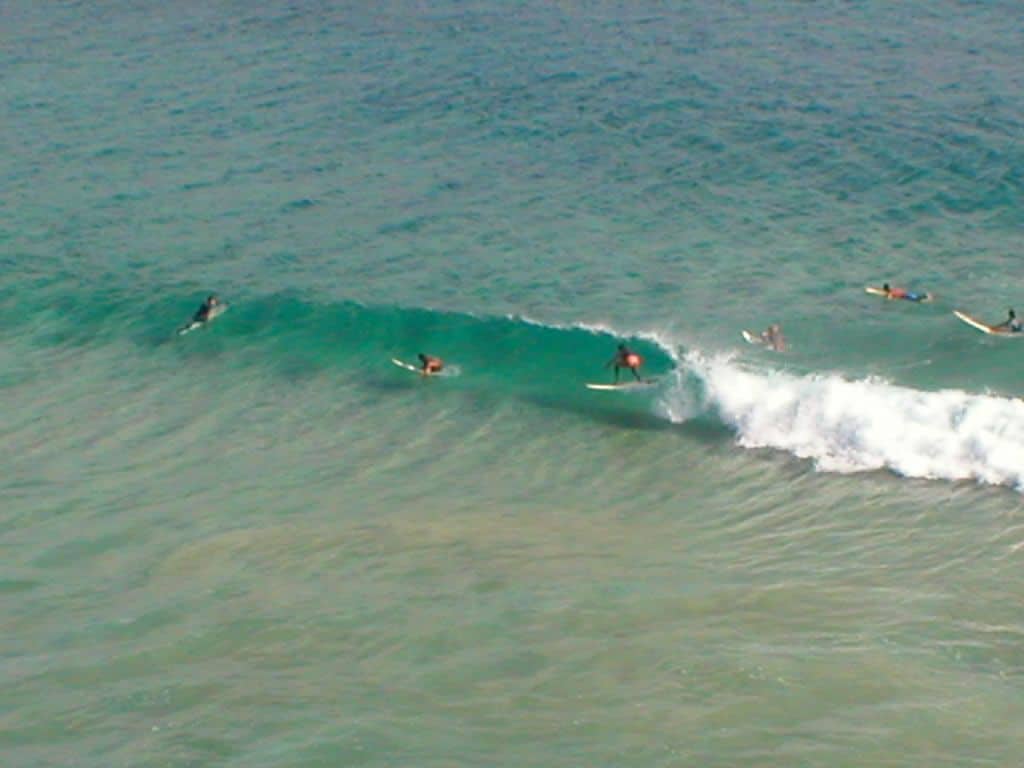 There is a huge range of surf options to choose from, making it perfect if one of your group is more advanced while the others want to learn.
It also has consistent waves and warm water, making it even more enticing for the learn-to-surf crowd.
On top of the above, the chilled out town of Byron Bay has a very relaxed feel with lots of travelers, backpackers and nights out on offer.
This can be to its detriment and means Byron Bay is probably not the best family surf vacation. Instead, try Noosa Heads to the north in Queensland if looking for a family learn-to-surf spot in February.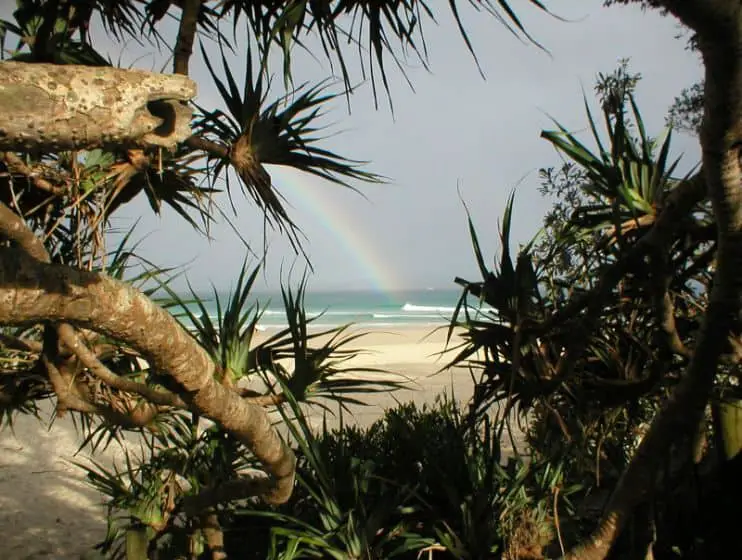 ---
Bali, Indonesia
From having lived for close to 3 years in Bali, I can say that you won't be disappointed if you go there to learn to surf in February.
One thing that I found a little frustrating was how many surf guides say that Bali 'doesn't get many waves' during the rainy season from Novermber-March.
I can tell you that that is a myth.
Bali gets plenty of surf year-round and I only had perhaps 1 day a year where it was too small to be able to surf for every year I was there. The problem is that the waves are so big and perfect during the dry seasons that people dismiss the rainy season, yet that's really doing Bali a disservice since a bad day's surf in Bali is like a good day in most other surf spots on the planet!
It's also the low season for tourists, meaning that you can have your pick of the accommodation at reduced rates.
Bali is also cheap, meaning that you can live well and still have money left over. It has lots of night spots and venues to eat out so you can do just about anything you'd like when you're out of the water, as well as the fantastic Balinese culture and many places to visit inland.
The only downsides to learning to surf in Bali in February are humidity and high temperatures. Although the water is extremely warm, it can sometimes feel so warm that it doesn't refresh you, which sounds strange until you experience it!
It is also rainy season in Bali in February, so expect some tropical downpours but, again, these weren't nearly as bad as I'd thought from what I read before going there.
Rainy season yes, but low season for surf tourists, so mellower and still tons of waves, as you can see from the photo of me below, taken during the "bad" season for surf in Bali!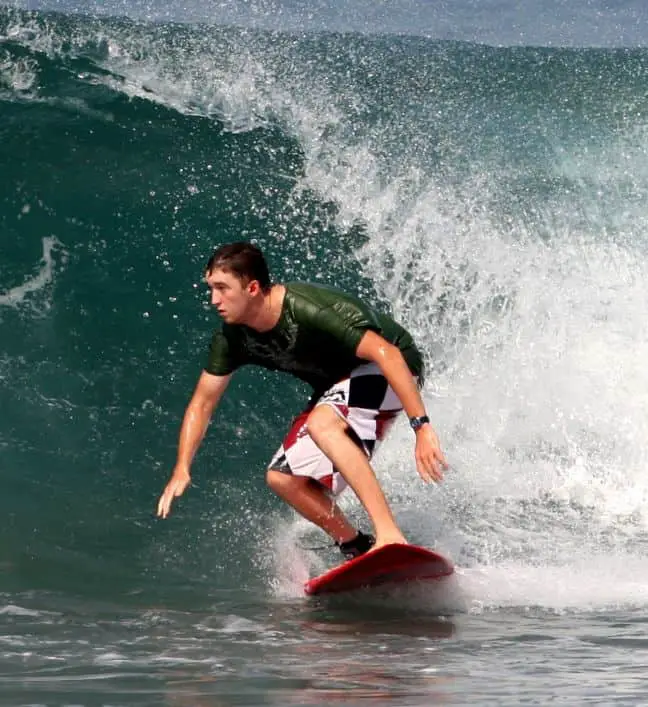 ---
Costa Rica: Pacific Coast
There's a saying in Costa Rica that you may have heard: pura vida. Literally, 'pure life', and if you go there, you'll no doubt understand why. 
Tropical climate with endless coastline and surf aplenty makes Costa Rica a fantastic location for learning to surf.
The weather in February is a very warm but pleasant tropical climate, with the water also being warm making for a very mellow surf experience.
There are surf camps aplenty to choose from which cater for your every need, so that means staying right by the beach with all surfboard hire taken care of if you want to travel light.
In addition to the great climate and warm water, there are lots of great learner surf spots to choose from, each catering to beginners.
Again, surf guides say that the best time to visit might be other months of the year but for learning to surf, February is once again an ideal time as the smaller waves will work perfectly for your needs.
In terms of drawbacks, being in Costa Rica does come with certain levels of risk, making it unsafe to walk the streets in certain areas after dark, although you will be fine in your accommodation and the immediate surrounding area.
Visiting surfers should also remain vigilant when surfing near river mouths since saltwater crocodiles have attacked surfers in the past, although incidents have almost always been when surfers paddled across a river mouth to get to a spot, mainly around Tamarindo.
---
Europe: Canary Islands
The Canary Islands are often referred to by surfers as the 'Hawaii of Europe', and for good reason: weather and waves abound on these volcanic islands.
The sub-tropical climate means that, although not as hot year-round as Hawaii, they are certainly pleasantly mild through the Northern Hemisphere winter and have long summers with high temperatures.
They also have plenty of waves year-round, with spots on the south coast of Gran Canaria like Playa del Ingles offering some of the best options for learning to surf.
Again, there are so many places to choose from that it's hard to go wrong but you might like to check out my YouTube video below for some tips on choosing the right surf school for you as it's important to find the right one!
The only downside to surfing in the Canary Islands is that there are many days when it can get windy, so either look for spots that have good sheltered options nearby or plan to do something else, which isn't an issue since there are so many places to explore and visit.
---
South Africa: Durban Area
Durban, South Africa is a great winter surfing option for those in Europe given the relatively cheap flights and the lack of a major time difference meaning almost no jet lag.
Durban has plenty of spots for beginners and some great surf schools to help you along the way.
The water and weather is warm in February, with no wetsuits needed here either, with water temperatures at around 73°F (23°C).
Durban also has lots of nightlife options as well as fantastic cultural and wildlife day-trip opportunities in the surrounding areas.
The weak local currency makes for an affordable surf trip for visitors, allowing you to eat out for a fraction of the cost in many other Northern Hemisphere countries.
In terms of drawbacks, South Africa does have a few in terms of safety at night and also sharks but, again, these are well-known factors and following local advice and guidance on both will mean that your chances of having any issues are small. 
Don't forget – learner surfers will rarely go far out of their depth, so shark attacks, which are already an extremely rare event, become even less likely.