5 of the Best Places to Learn to Surf in August
For anyone living in the Northern hemisphere, August is peak summer season and therefore, potentially the best time to learn to surf for those of us who work full-time and have to take their holidays in the summer. 
However, depending on where you go, August may not offer the right conditions for beginners. This is why you should research your surf holiday destination well in advance and arrive prepared to get the absolute best out of any surf trips you plan to take. 
If Europe offers warm and inviting temperatures, the Southern part of the world has less crowded beaches and some amazing waves.
But fear not, in this article you'll find all you need to know to decide where to surf in August when you're just starting out.
You'll read about the best spots to learn surfing in Europe, the US, and the rest of the world, as well as my top tips to book the best surf vacations for beginners of your life.
Where Can I Surf in August?
You can surf virtually anywhere in August, with a huge range of choices for surf destinations in just about any continent. However, your surf holiday destination should depend on your level and specific needs, as we'll look at below. 
If you don't feel like wearing a swimsuit and running for your towel and a hot shower as soon as you get out of the water, for example, it's best if you remain north of the Equator. 
You should also consider the difficulty of the waves that you'll encounter as well as possible safety hazards affected by seasons like typhoons and sharks.
---
Where Is the Best Place to Surf for Beginners in August?
If you've opened this article, you're probably wondering where to start. A good beginner's surf spot has a combination of the below factors:
Smaller, less powerful waves (1 to 3-foot high are ideal)
Fewer rip currents
A not-so-crowded lineup (but avoid a completely empty beach)
Surf schools or lifeguards (ideally both)
Keep reading to find my favorite breaks that offer some or all of the above in August.
Where to surf in Europe in August: Portugal and Spain
Portugal is one of the best countries to surf in Europe. Here are some of the most popular destinations among beginner and intermediate surfers, such as Ericeira and Peniche.
A Save the Waves Coalition World Surfing Reserve, Ericeira is a charming fishing town just 45 minutes north of Lisbon.
For this reason, it's popular with tourists and locals alike who flock here for a weekend getaway.
Besides world-class waves, you'll find stunning ocean views and sandstone cliffs as well as delicious and affordable seafood restaurants.
Peniche is popular among those who enjoy a rugged, more 'real' Portugues feel. This is still a working port and you won't only see tourist resorts around you.
Cantinho da Baia runs for 3 km, isn't crowded, and presents many take-off spots. Make sure to check out the unique Ilhas Berlengas nature reserve.
Right in the heart of the Basque region in Spain, San Sebastian is considered the country's surf and food capital. Could it get any better?
Having spent some times in San Sebastian myself, I'd strongly recommend some of the local tapas, called 'pintxos' (in Basque) or 'pinchos' in Spanish.
Best places to surf in August in Africa: Morocco and South Africa
If one thinks of surf and Africa, the mind goes straight to South Africa, home to some of the world's most famous breaks and the backdrop of famous international surfing competitions.
Muizenberg is, according to many, one of the best spots on the planet to learn to surf. It presents clean and easy beach breaks as well as a lively surfing community and plenty of schools to choose from. 
August will allow you to avoid the crowds that flock here during Christmas time but keep in mind that the water will be cold. Since Muizenberg is a suburb in Cape Town, you will also have the chance to visit some of South Africa's most popular landmarks.
If you prefer more summery weather, head to Morocco. In Taghazout, just north of Agadir, you will find mellow waves and an incredible amount of surf schools ready to assist you as you catch your first waves, just like the on-wave surf guide in the video below! 
You'll be almost guaranteed to find warm temperatures and lovely weather (this area reports over 300 days of sunshine per year) as well as many fellow beginners and the local unique Berber culture to explore.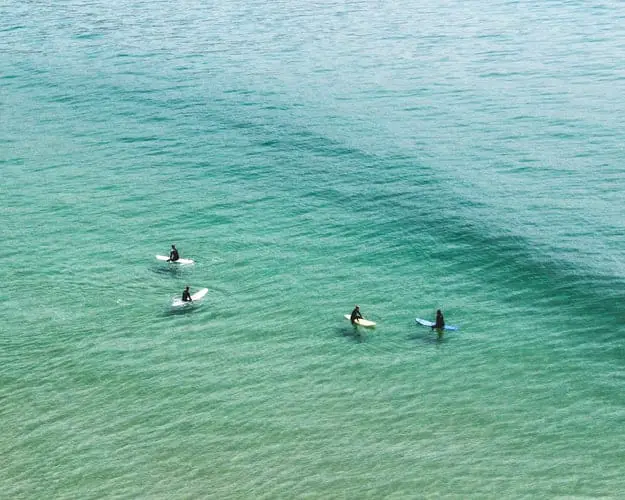 Where to Surf in August in the Americas: Panama, Costa Rica, and the USA
Beginners will have a fantastic time in the Americas. Whether you'd like to explore the US or are attracted by the lush nature of Costa Rica, there's something for you here.
A famous spot among those who enjoy a Caribbean feeling, Playa Venao and the Guanico beach in Panama offer great breaks for beginners.
If you still don't know what the pura vida lifestyle of Costa Rica is, you're in for a treat. Literally meaning 'pure life', this expression stands for everything that makes up Costa Rican culture.
People here great each other with this motto and follow it in everyday life, facing everything with a relaxed and optimistic spirit.
There's no space for negativity but a great will to enjoy life and be thankful for what one has. It's not by chance that Costa Rica has been named one of the happiest societies in the world.
The most popular Costa Rican areas for beginners are the Guanacaste region and the Nicoya Peninsula with the famous Santa Teresa Beach. If you travel with a more experienced friend, you won't need to compromise here as there are breaks for all levels.
Costa Rica's busiest surf town is Jaco while the most renowned beach to start out is Tamarindo. The water is warm all year round but please keep in mind that there may be bigger swells in August.
Excited about surfing in the USA? Start in San Clemente, California, for the best beginner's waves and atmosphere. It is especially good for those who dislike competitive lineups.
No pressure here, everyone is very laid back and mindful of surfing etiquette. And what could be better than learning to surf at the heart of the Californian surf culture!
Expect a water temperature of 18 to 22°C (64 to 72°F), with wetsuits being more of an optional thing in August. However, if you do feel the cold, then a short wetsuit is likely to be plenty for most surfers.
Best surfing spots in Asia for beginners: Bali, Sri Lanka, and the Maldives
Bali is an incredibly popular destination for surfers and backpackers and it's easy to see why.
A very affordable destination, you'll be able to relax on breath-taking beaches, take jungle walks on volcanic mountains, and visit ancient temples. You'll also enjoy nights in luxury hotels and eat healthy and delicious food (Bali is very vegan-friendly.) And all of that for crazy affordable prices.
Although Bali is famous for reef breaks, there are several excellent schools to learn to surf here. One of the traditional spots for beginners is Kuta with its long waves and soft sandy bottom.
Having lived in Bali for close to 3 years myself, I can say for sure that Kuta is the place to start since it has everything you could want and lots of perfect waves for learning to surf.
Warm waters and dry weather can be found between May and September. However, if you'd like to avoid the peak season, travel to the west coast in October-November. 
Sri Lanka may be less known than Bali but it's just as beautiful. The island country known as the gem of the Indian Ocean offers stunning hikes, waterfalls, the most scenic train route in the world, and elephant safaris. 
In Sri Lanka, beginners will be able to learn on unusually long, slow, and rolling waves. Head south to the Matara District or to Arugam Bay.
Want to learn how to surf during your dream holiday? Although many don't know this, the Maldives is home to some amazing breaks for beginner surfers, especially in the Northern Atolls (try Ninjas, Quarter, and Lohis). Trust me, you'll think you've arrived in heaven and will not want to leave. Southern islands are also a surfer's paradise but are more indicated for experienced riders. 
Where to learn to surf in Australia in August: Byron Bay
Everyone knows that the Australian coast is a treat for surfers of all levels. Not to mention the incredible adventures one can live in the country Down Under. Exotic animals, multicultural modern cities, the wild and magical outback … you'll fall in love with this lucky country.
Byron Bay is the number 1 destination for beginner surfers in Australia. The hippie surf culture moved here in the 1960s and never left. From partying to surfing to finding your spiritual side, this is a destination to remember. 
Keep in mind that August is considered wintertime in New South Wales so the water temperature may be low for some, but it's still a pretty pleasant temperature for most, as you can see in the video below.
How Long Will It Take to Learn Surfing?
If you're planning your first surf holiday, you may be wondering whether those few weeks you'll spend out of the office will actually be enough to learn how to ride a wave. Sure, we're talking about a competitive sport that takes years to master at its finest but can you learn to surf in 2 weeks?
That's what surfing schools are for. In general, it's absolutely doable to learn to surf in the span of a holiday. In fact, you'll learn the basics in just a few lessons — that means, in a matter of hours.
It all depends on your goals and circumstances. If you want to become a pro who can ride difficult waves, that will take months or even years. If instead, all you want is to stand on your board and catch easy waves safely, then you can learn that during your time off work over a summer.
Make sure to choose a surfing destination that presents ideal conditions for beginners and to pick a school that employs professional and experienced teachers – more on this in my video below!
How Much Does It Cost to Start Surfing?
This is a bit of a tricky subject as it all depends on your needs and preferences. Surfing requires specific gear (and no, I'm not only referring to the board) that in itself can vary greatly depending on the surfing conditions. I calculated the price of new surfing gear to be around $750.
Of course, if you learn to surf where the water temperature is pleasant, that will reduce costs and so will buying second-hand. Those who decide to go on a surf holiday or camp can easily rent the basics out at a local club or even have them included as part of their holiday package. 
Class prices also vary enormously depending on the area. If the average cost for a lesson in South Africa is below $20, America is the second most expensive country in the world with a class costing up to $100 (Norway tops the ranking.)
Although there are many surf holiday deals out there that include everything from accommodation to classes and even meals, most traveling learners will have to add the price of the flight ticket and lodging.
That's why affordable destinations like Southeast Asia and South America are increasingly more popular with young surfers.
Do People Surf in the Winter?
Absolutely. In fact, many surfers swear that winter is the best time to go out and enjoy perfect surfing conditions. The waves are longer and more reliable in many areas like Australia, where the swell is cleaner at this time. Other perks include fewer crowds and better surf etiquette. 
In the Southern hemisphere, August just happens to be the chilly season. Modern wetsuits will keep you nice and warm while you have fun on the board. Don't forget to make the most of the experience and enjoy a nice beer or soup at the local pub to warm up afterward and celebrate your feats.