Surf Without Sharks: 6 Best Surf Destinations
In terms of surf safety, many people often think about shark attacks before paddling out into the waves.
Although there is more chance of being struck by lightning, the thought of a shark appearing in the surf still springs to mind, not least because of films like Jaws with its incredibly haunting theme music.
So, where can you surf without sharks? France and Portugal have the best waves, with Spain, Ireland and the UK also good options. Nowhere is without sharks entirely, but Portugal and Ireland have 0 shark fatalities on record (300+ years) and the last in France was in 1700!
These are the best surf spots that have had hardly any shark attacks recorded since records began and we'll look at each country/region in this post for more context, although you will soon see that you really don't need to worry about surfing with sharks in these countries.
The stats also show that Europe is the least likely place for a surfer to get attacked by a shark, with many countries not having recorded a fatal attack in over a hundred years!
Shark Attack Data for Europe
To explain the information mentioned above, below is a table of shark attack data to show how infrequently the best surf spots in Europe have had shark attacks.
Please note that most of the attacks listed here happened to people other than surfers, often fishermen out further to sea in deeper water.
The only attacks listed below on surfers are listed with an asterisk (*) next to them to indicate this, and only one involved injury and even then this did not require hospitalization.
In addition, most of the attacks were not in the areas recommended in this article, with several in the Mediterranean Sea, being a very different coastline to the Atlantic Ocean.
Country
Last Recorded Shark Attack
Last Fatal Shark Attack
Comment
France (mainland only)
1986; on the Mediterranean coast 
1700 (!)
Mediterranean coast is not recommended here for surfing.
Portugal(mainland only)
1943
None recorded
Last recorded attack was on fishermen, no injuries. 
Ireland
None recorded
None recorded
Spain
2016
1912
Both on the Mediterranean coast, not recommended here for surfing.
Scotland
*2011; just a bump, no injury
None recorded
England
(Source 2)
*2017; 
1922
Minor injury  to thumb.
NB: All data above is from the Shark Attack Data website, except where noted otherwise.
1. France: South West, Atlantic Coast
Without a fatal shark attack in over 300 years, France offers safe surfing without worrying about sharks.
The best waves are in the South west in summer through autumn, with peak holiday season being the month of August. 
The Les Landes and (French) Basque Country regions offer high quality waves on mostly beach breaks but also with some reef and point break options.
It's also surf central for Europe, so the offering here is great for all kinds of surfers, as well as being a centerpoint for the surf industry, too.
Quick Facts
Best Spot(s): Beaches around Hossegor
Best Surf Season: April-October

Wetsuit Guide for that season: boardshorts and wetsuit top – 3/2mm wetsuit early/late summer

Range of Waves: Focused on beach breaks with big wave options. Some learner spots.
Pros
South-west France has a highly developed surf tourism industry so it offers lots of places to hire surfboards as well as surf schools to learn to surf.
It has consistent swell in its peak season and, such is the quality of the surf, the World Surf League visits every year in autumn to host a professional surf event.
Weather is great in summer months and even means that you can surf in boardshorts, often best with a wetsuit top.
The food and drink is fantastic and there are endless stretches of open beach where you can find your own surf spots and have loads of fun without worrying about the crowd.
PS Check my tips on surfing a new surf spot for beginners before paddling out!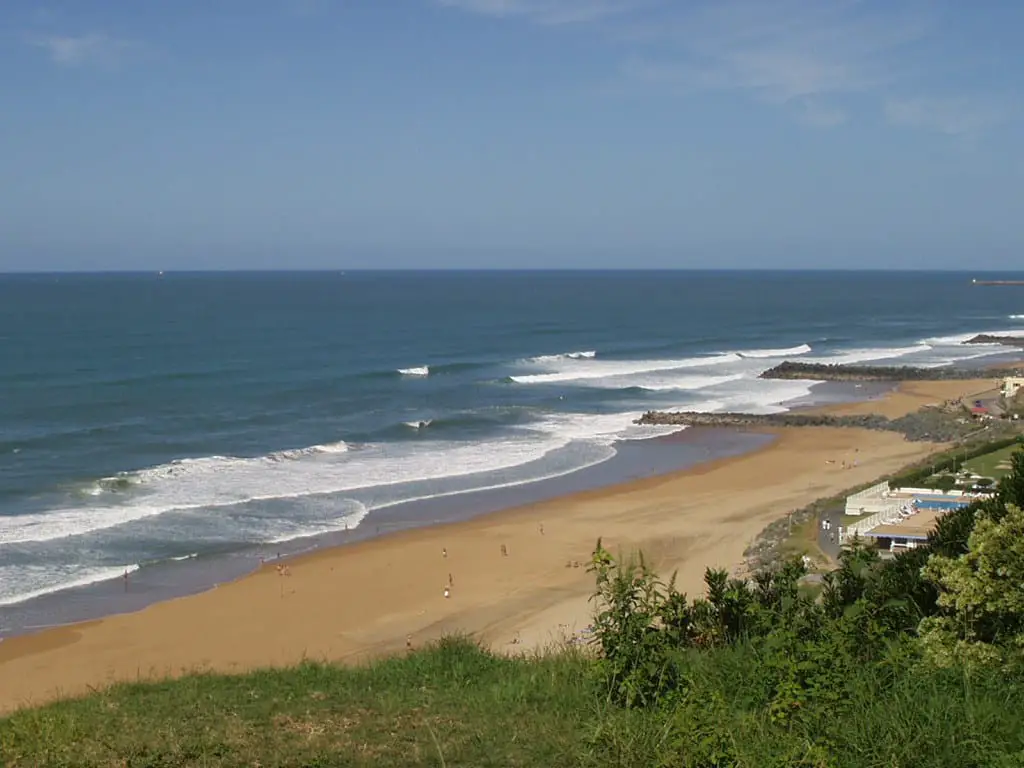 Cons
Some of the downsides are that it is quite an expensive destination with food and accommodation being some of the costliest parts of your trip.
It also gets very busy in summer, especially around the best-known spots in Hossegor, Biarritz and nearby.
Many of the beaches also turn into a pounding and dangerous shorebreak at high tide. This can mean sitting out several hours of each day while waiting for the tide to drop again.
There is also a lack of sheltered spots on big days since many of the open beach breaks can get huge but become dangerous for anyone other than the advanced surfer. On such days, the few point breaks and reefs around can get very crowded, so there is little left for the average surfer.
Although both French wine and food is world class and inexpensive at a supermarket, it can be expensive to eat out in restaurants, so you may want to factor that in if you like to eat out a lot while on holiday.
Out of season, the water can be very cold in winter at around 54°F (12°C), so you would need to go for a full winter suit with boots and probably a hood.
---
2. Portugal: Atlantic Coast
Portugal has had no recorded fatal shark attacks on the and has not had an attack on the mainland since 1959, which even then was on a fishing boat and no injuries were sustained, making it a great surf spot if sharks worry you.
It also receives some of the most consistent swell of anywhere in the world, with constant Atlantic storms providing waves all along its Atlantic coast throughout the year.
Best spots are generally around Peniche and Lisbon as these offer the most variety but you can have a great time surfing just about anywhere on the Atlantic coast and even the south-facing coast of the Algarve when the swell is big enough.
Quick Facts
Best Spot(s): Beaches around Peniche
Best Surf Season: April-October

Wetsuit Guide for that season: 3/2mm wetsuit mid summer, 4/3mm wetsuit early spring and late autumn

Range of Waves: Every kind you could want with a huge variety from learner to big wave spots.
Pros
Powerful, consistent waves with a developed surf industry that is welcoming for beginner surfers. 
A huge variety of spots means that you can choose between beach breaks, point breaks and reef breaks in most areas.
The temperate climate means long, warm summer days with surf aplenty.
The amount of spots to choose from also means that you can quite easily find uncrowded waves if you venture off the beaten track of the most well-known surf spots.
Add to the above the beautiful architecture, food, culture and friendly people and you have a fantastic surf destination to explore.
Cons
Some of the more advanced spots, like Supertubos in Peniche, have incidents of localism where the local surfers can be aggressive to those from elsewhere.
Be mindful of this and respect the locals wherever you go and follow the recommended rules of surf etiquette, being polite and taking waves only when they come to you and it is safe to do so.
The water also never gets that warm, even in the height of summer, given the upwelling off much of the west coast of Portugal; this is where cooler waters rise up from the depths of the ocean and then occupy the surface layer of the sea, causing the water to remain cooler than many other parts of Europe.
---
3. Ireland: West Coast
Ireland has had no recorded shark attacks at all, so it is a great spot for surfing without sharks.
It also has a swell-drenched Atlantic coast that has an incredible amount of surf options. There are many great spots on the west coast, with more of the surf schools being around Lahinch (County Clare) and Bundoran (County Donegal).
Quick Facts
Best Spot(s): Anywhere on the west coast!
Best Surf Season: May-September

Wetsuit Guide for that season: 3/2mm wetsuit throughout summer, 4/3mm wetsuit and possibly boots in spring and autumn

Range of Waves: Focused on beach breaks with big wave options. Some learner spots.
Pros
The west coast of Ireland has many types of surf spots to choose from with lots of nooks and crannies to find all kinds of waves.
It is also relatively quiet in surfing terms and you can find quite a few uncrowded spots if you venture a little way off the beaten path.
It has a beautiful, rugged coastline dotted with castles so it is as picturesque as it gets. 
On top of that, you have the friendly people and thriving pub culture with live music and bands on a regular basis making it a vibrant and fun surf destination.
Cons
The main con of surfing in Ireland is the cold water. It never gets particularly warm, even in the height of summer, with temperatures reaching a high of around 60°F (16°C), meaning that you will need a wetsuit year-round for a comfortable surf session.
One other thing that makes surfing in Ireland a challenge is also the reason for the cold water: the weather! With a cloudy and wet climate, Ireland often has cooler summer temperatures than much of Europe so it does not often get that warm for spending an entire day lazing on the beach, although such days definitely do come around!
It is also quite an expensive place to visit, particularly if you plan on eating and drinking in the local pubs and restaurants as they have relatively high prices.
4. Spain: North, Atlantic Coast
Spain's North-facing Atlantic coast has no recorded shark attacks and so is an inviting option for surfers. The most recent shark attacks listed in the table were also on the Mediterranean coastline, in a completely different body of water. As such, you do not need to worry about sharks when surfing on the northern Spanish coast.
Sharing a border with south west France, the Spanish northern coastline offers plenty of surf options and caters for learner surfers with numerous surf schools all along the way.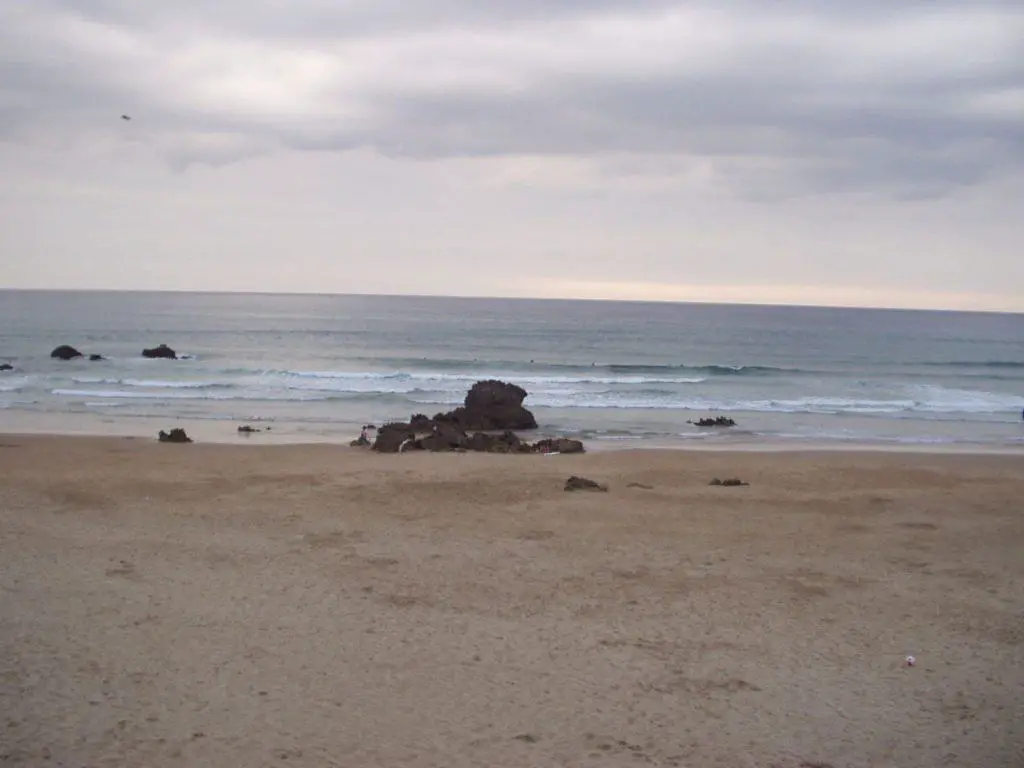 Quick Facts
Best Spot(s): Around San Sebastian/Donostia (Basque Country) and Santander (Cantabria).
Best Surf Season: April-October.

Wetsuit Guide for that season: boardshorts and wetsuit top – 3/2mm wetsuit early/late summer.

Range of Waves: Range of beach breaks and points breaks with lots of mellow spots.
Pros
There are many great spots catering for all abilities, including the world-famous rivermouth wave at Mundaka in the Basque Country.
Best learner spots are on fun and mellow beach breaks, with places like Somo near Santander and Zarautz near San Sebastian being two of the most well-known learner surf spots.
The warm summers mean that you can have great, long days at the beach with surf being pretty consistent.
Eating out and drinking is also relatively cheap in Spain, so you can sample much of the great local food and drink on your way, with so much to choose from that it's hard to suggest here but the cider in Asturias and in the traditional Basque tapas called 'pintxos' (spelled also as 'pinchos') in San Sebastian being among the favorites that I've tried.
Cons
One con of the surf options on the north coast of Spain is that these spots receive a fair bit less swell than the French coast just a few dozen miles away. This means that you may find yourselves driving over the border on particularly small wave days.
To add to this, there can be flat spells in summer, something I experienced when spending a month learning Spanish at a language school in Santander during the month of August.
The learner spots around the big cities can also be crowded throughout the summer, so expect to have to drive a bit further for some quieter waves, although these are not far away.
---
5. Scotland: North Coast
The Northernmost part of the United Kingdom (UK), Scotland has only had one recorded minor shark incident with a surfer in 2011, which was a bump without a bite and happened on the north-east-facing Moray coast, over 150 miles from the North Coast.
The North Coast of Scotland offers a huge range of surf spots in remote and rugged surroundings. It's also a place where you can choose whether to surf with others or not, making it great if you want to escape the crowds.
Quick Facts
Best Spot(s): Thurso East
Best Surf Season: 

Wetsuit Guide for that season: 4/3mm wetsuit in summer, with boots and a 5/4mm wetsuit the rest of the year

Range of Waves: Focused on beach breaks with big wave options. Some learner spots.
Pros
The uncrowded surf spots make Scotland's North Coast a rarity in surfing terms. Outside of the main break of Thurso East, which is world-class on its day, you will often have the choice of how many people you want to surf with!
The stunning scenery also makes for a great backdrop with wild seas, cliffs and the highlands a drive away.
There is a great range of surf spots to choose from with waves for all abilities and levels on offer.
It is also home to Thurso East, commonly referred to as one of the best waves in Europe and which breaks consistently.
The North Coast also receives a lot of swell and is rarely without somewhere to surf.
Cons
However, as with Ireland, there is a reason for why the surf in Scotland is uncrowded: it is really cold year-round in the surf! I went up there in September in 2012 and wore a 5/4mm wetsuit with boots and did not regret it!
The weather once again gives an indication as to why the water is so cold, with lots of rain and wind throughout the year in this part of the UK.
There are also limited surf schools since the small population of the area means that there are not many offerings if you want to learn; currently, there is only 1 surf school currently listed in the Thurso area, Northcoast Water Sports, although it should be noted that this comes in highly rated on TripAdvisor.
On top of the above, you will also find that you have quite long drives between surf spots in this part of Scotland.
There is also a nuclear power station around Dounreay that can affect some of the beaches 10 or so miles to the west of Thurso. I know this first-hand from a surf I had near there where the sign on the beach from the local council warned beachgoers of 'live radioactive particles' having been found on the beach. That said, it is more something to bear in mind than to worry about; if curious, you can see the corporate report produced by the UK government on the topic.
Although we've said that it is uncrowded, Thurso East definitely gets crowded on surf good days, with people driving up for hundreds of miles to get good surf there. This is only an issue if you are an advanced surfer looking to surf a challenging wave, otherwise it won't be a concern.
One last point is that, if traveling with non-surfers, there is a limited range of cultural activities in the local area beyond walking in the admittedly stunning local surroundings.
---
6. England: South West, Atlantic Coast
Although often overlooked in surfing terms, the south west of England offers some great waves in picturesque surroundings.
The most recent shark attack in England was in 2017 on the south Devon coast where a surfer's thumbs was lacerated by a shark; otherwise, there have been no recorded attacks on surfers in this part of England with the last fatal attack being in Yorkshire in 1922, which is around 260 miles away and in a completely different body of water.
In terms of English surfing, Cornwall and Devon are the main two counties that are the focal point, with Cornwall hosting the annual Boardmasters surf event in the summer.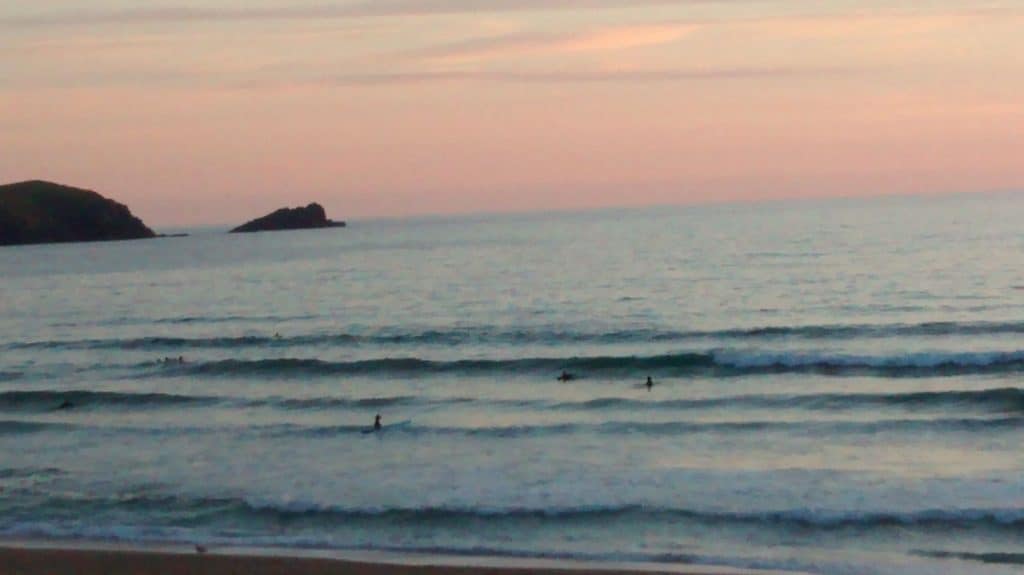 Quick Facts
Best Spot(s): Beaches around Newquay
Best Surf Season: April-October

Wetsuit Guide for that season: short wetsuit in mid summer, 3/2mm wetsuit early/late summer.

Range of Waves: Focused on beach breaks with lots of ideal learner spots.
Pros
Given the highly developed surf industry and scene, there are many good quality surf schools in this area along with great accommodation options.
There are learner waves aplenty with miles of mellow beach breaks, particularly along the north coast of both counties.
It is perhaps one of the best locations for longboard surfing as there are so many days that are perfect for this, making it ideal for you if you want to hone your longboarding skills.
The video below gives a nice idea of how it is to go longboarding at one of Cornwall's more remote yet stunning surf spots:
Cons
On the negative side, south west England can be crowded around main surf spots like Newquay as it really is 'surf city' UK. In the summer months, it can be very busy at all the main surf spots, so expect to drive a bit further afield for some quiet waves.
It's also expensive, as with other Scotland and Ireland, making it more of a spot for those looking for either all-inclusive surf holidays or self-catering options.
The weather is also notoriously fickle, although it has some great periods of weather throughout the summer months of July and August.
One other point is that Cornwall can often have flat spells in summer so you can go a good few days without a surf when you are there, so expect to have to find other options in the nearby area.
---
Related Question
How often do surfers see sharks? In the sharkiest parts of the world, quite often, but shark sightings are much more common than actual shark attacks, which happen very rarely by comparison.
If you ask surfers in Western Australia or Southern California, many will have a 'shark story' to tell you but you probably won't meet any who witnessed or were involved in an actual shark attack.
The main thing to remember is that sharks are out there in the places we know about, so go out with friends and avoid dawn/dusk for safest surfing. Otherwise, check out this super-helpful guide to surf safety gear I prepared with special reference to some of the shark-deterrent products on the market for surfers.
If you follow the advice above and are sensible, there's not much to worry about as you simply can't control things any further! Stay safe and enjoy!