Best Surf Wetsuit Bags: Ultimate Guide
Carrying your wetsuit back and forth to the beach needs a good bag or other option, no doubt about it;
I know this first-hand from having destroyed several backpacks over the years from trying to carry a wetsuit!
You need a specific surf wetsuit bag, otherwise you're going to get salty, crusty bags that are rotting and for carrying your laptop to work or college, let alone anything heavy. 
The Vissla Elite Surfer backpack is the best wet-and-dry surf bag, because it has comfortable straps and is fully waterproof, as well as a pocket accessory and nice, simple roll-top closure. It also carries enough for all your winter gear, so it can cover all seasons. That's my top choice.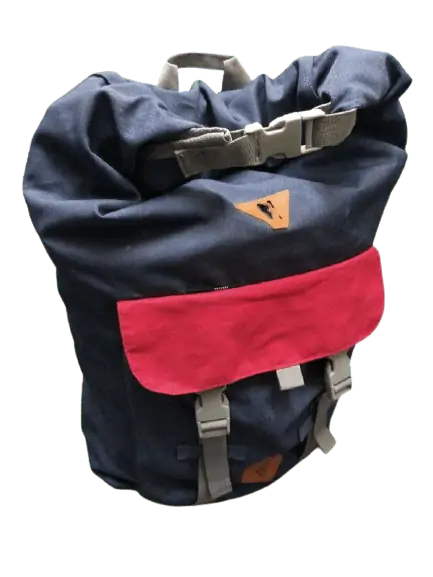 The next best surf bag option is the DaKine Mission Surf 32-liter backpack. This is a bit more compact, and better if you're in a warmer area, but it is a really nice bag as well. It's a bit more for the minimalist-type surfer, but it's a brilliant option as well, and it will do the job just fine.
As for a budget option, the Creatures of Leisure Dry Lite waterproof wetsuit bag is a good choice, because it's a simple bag that really is more of a sack, and it goes into another backpack. So that's the budget option. But the other two I would go to ahead of that, but this will still work.
Now you know my top choices, let's get into all the key details about buying a surf wetsuit bag and everything you need to think about on what is going to work for you. Let's do that right now.
What to Look for in a Wetsuit Bag
As I've mentioned, if you don't have a wetsuit dry bag, you are going to ruin your other bags, so you really need to get one that has a wet-dry bag lining, and that is what makes a wetsuit bag, really. 
Without that, the salt water from your wetsuit, your dripping-wet wetsuit on the way back especially, will run through, and it will leave not only tide lines and salt stains on your bag, but it will also start to just corrode and damage the zips and other parts of the bag quite quickly. 
As I said, I've experienced this firsthand, and it's not something you want to do for your nice backpacks.
Comfort When Carrying a Wetsuit Bag is Key
You really need to get a bag that's going to be comfortable, because your wetsuit when wet and all the other gear can weigh up to about 10 pounds, as I know from weighing them myself. 
This is a lot of weight to be carrying, and is not something you want with a cheapo bag.
In the past, I've bought cheap wet/dry bags that had a very nasty strap, and the problem was then the strap just ended up chafing, and I was in pain trying to carry my wetsuit bag. 
Especially if you're going to a spot where you need to do a bit of walking, or if you're going to be on the move, you need a wetsuit bag with good padded shoulder straps that will support the weight and not rub and chafe on your shoulders all day long.
Added to that, on top of the padded shoulder straps, getting a backpack is key for this wetsuit bag, because if you get one with a single shoulder-sling strap, that also will add to the strain and make it much less comfortable to carry. So you get a backpack-style wetsuit bag. 
Don't be tempted by the cheaper single-strap options, again, something I know from the pain of experience. It's not nice, and it does pay off to pay that little bit more.
Capacity of Your Wetsuit Bag is Really Important
Definitely get a wetsuit bag that is on the bigger end of the scale, capacity-wise, because then it gives you the option to carry other things like towels, changing robes, even winter accessories if you're living in a cold-water area. 
For me, water temperatures in winter get down to about 43 degrees Fahrenheit or seven degrees Celsius, so I need thermals, full hood, gloves and boots.
And for that, the Vissla Elite Surfer dry bag has 40 liters of volume, which is enough to carry everything. But it doesn't have a lot more space, to be honest, so it's a perfect size, but much less and you would struggle.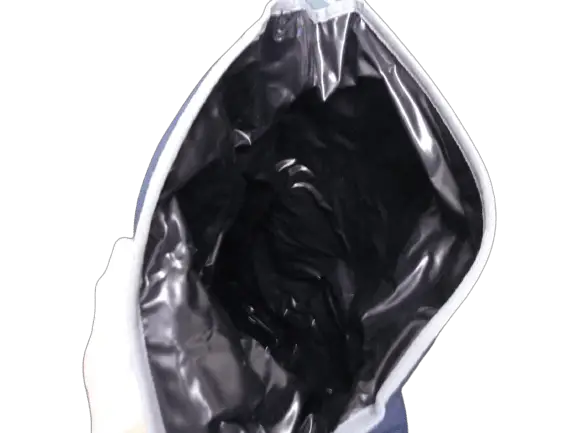 The minimum I would say is go for a 32-liter bag. But if you want to be comfortably fitting all your winter surf gear in, I'd say go for the 36-liter options, or 35 and up.
Now, a 40-liter wetsuit bag is quite large, but it needs to be for good reason. And I know that every day I go to the beach, even in the coldest weather, I can throw everything in there without hassle. 
If a wetsuit bag doesn't state the liters or the capacity and the volume, then be careful because you just don't know how big it's going to be, and whether it'll fit all your gear.
Changing Mats with a Wetsuit Bag – Nice to Have but not Essential
Changing mats seem like a great idea, but a lot of the changing-mat bags around are just simply mats with a pull cord that then folds up. This is nice, quick and easy if you're just going by car, but offer very limited options for carrying over your shoulder and will be quite uncomfortable as well.
However, I find that I can use my standard wetsuit bag as a changing mat anyway because it has a padded panel on it, so I stand on that. It's not exactly the same as a changing mat, but for an all-in-one option, again, the Vissla Elite Surfer bag does me very well.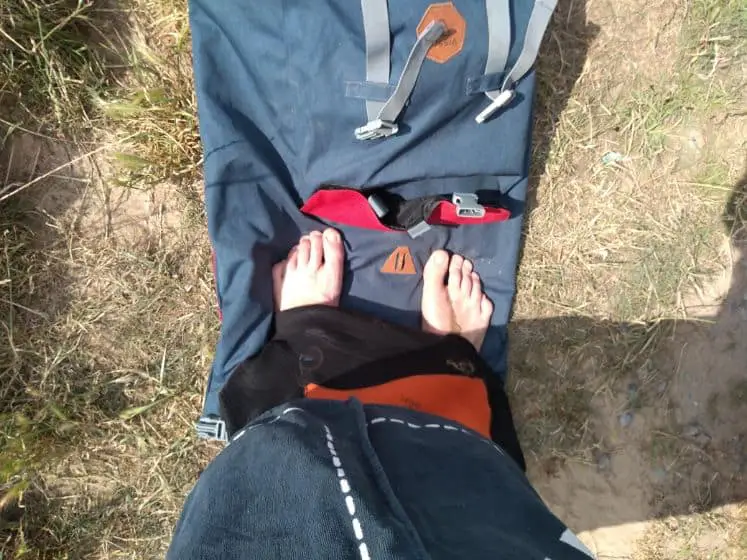 If you want to get a changing mat, you can do, but just be sure that you know that it's really for carrying your wetsuit in the car and changing in the car in the parking lot, rather than for doing any kind of trekking or traveling with it.
The other thing about those changing mats that fold up into bags is that they are not as robust as a backpack, so they're going to wear through over time. 
But they are cheaper, so you know you get what you pay for. They won't last as long, but they are a lot cheaper. So if that's what you need, then go for that by all means.
Think About Your Local Water Temperatures and How Bulky/Heavy Your Wetsuit Will Be
If you're surfing in a cold area, as we've mentioned, you need to think about more capacity, but you also need to go for a stronger and heavier wetsuit bag. 
This is because your wetsuit gear will be more, and it will weigh that much more. So if you go for a light bag, that will not last you very long, especially when it comes to putting in all your wet winter surf gear.
As I mentioned above, my wet winter surf gear weighs 9 to 10 pounds when wet, so putting that in a light, flimsy bag is not going to be a good idea and is not something that will last very long.
On the flip side, spending that bit more, getting a robust, quality backpack by a brand like:
Vissla
Da Kine or
Creatures of Leisure
even FCS (if you can find them)
Doing so should mean that they last a lot longer and that they are built for purpose. There are a lot of cheaper options on Amazon, but I have not tried any and cannot recommend them for that reason.
Prices of Wetsuit Bags
As mentioned above, the reputable surf brands will be the premium options. But they are designed with that in mind, so they have a lot more finesse in terms of their design features, and they are specifically for surfing. 
You can get the dry bags for water sports in general, but they don't cater for surfers in the same way, things like they don't have pockets, often, for your wax and your keys and so on.
 And they're also often just for slinging in your car.
However, you can get a budget option, as we mentioned, but be aware that it won't be as robust or last as long. 
If you do go for a good quality wetsuit bag, you should expect to get at least five years' use out of it, whereas I believe that if you spend less, you will get a similar amount less time for the less money you spend.
So that's our guide to surf wetsuit bags. I hope you find it useful, and remember to check out other related content on this site for more info!
Related Content