Best Surfboard Bag: Buyer's Guide
Choosing a surfboard bag can be both simple and complex given that there are many factors to consider to help you get the best surfboard bag for you. 
In short, the best surfboard bag is one that is a few inches longer than your board and is suited to the type of use you need it for. 
Be it a day bag or padded for heavy duty travel, made by a good and reputable surf brand. Now there's many, many factors to consider with surfboard bags. 
So I want to go into a lot of detail below to explain all the points you need to think about before you buy a surfboard bag for you to help you get the best possible bag that you can first time. 
Choose the Right TYPE of Surfboard Bag
There are a couple of different types of surfboard bags, but the main ones are a day bag and a travel bag.
Travel bags have various different subtypes within them. 
But the main distinction is that the day bag is for day-to-day use, which is going back and forth to the beach. And the travel bag is for airline or long haul travel.
Surfboard Day Bags
Day bag is a really good option to have to protect your board for day-to-day use by putting it in the car, just going to the beach and having it stored in your house. 
A surfboard day bag is also lightweight. So it's not too heavy to carry with you, meaning that it's easy to use on a daily basis.
Surfboard day bags are also the cheapest of the various surfboard bag options because they have less padding.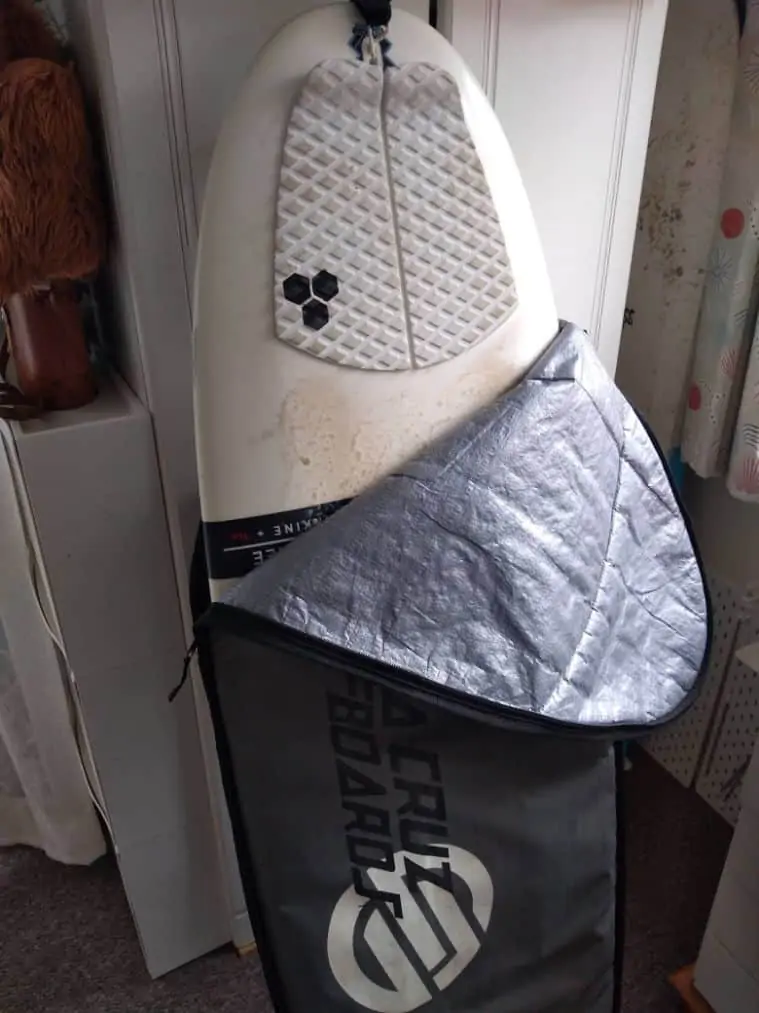 Now they don't have as much padding because it's designed for you just to carry with you on your person, but don't get the wrong impression, surfboard day bags are not designed for traveling!
Do not use a surfboard day bag for travel or long haul travel because the padding is so much thinner that they will not protect your board properly. 
So just be aware of that before you buy one. You can get a surfboard day bag starting at around $40 and they go up to anywhere around $150 for the premium ones. 
But generally $80 to $100 will get you a very good surfboard day bag for your day-to-day use and give you plenty of use out of it. 
Added uses of a surfboard day bag include things like using it as a changing mat, which is really helpful in gravel car parks or if you have to change on the sand. You can also lie down on them!
If you're traveling up the coast, you can have a quick siesta, or even use them under your sleeping bag for a bit of extra padding overnight, something I've done a good few times. 
Surfboard Travel Bags
The heavier duty surfboard bags are actually called travel bags because of that reason, they are designed to make sure that you can take them on a plane and the baggage handlers won't totally destroy your board if they throw it around a bit. 
Although there are no guarantees because still bad things happen with baggage handlers and surfboards even to this day.
The main types of surfboard travel bags are a single bag, a double board bag and a coffin bag as I'll explain below.
Single Travel Surfboard Bag
As the names would suggest, a single surfboard travel bag is designed just for one board and they come with extra foam padding compared to day bags. 
Expect to have about 10 millimeters of padding in a good surfboard travel bag whereas a day bag would only have about 4 millimeters of padding.  Otherwise, a single surfboard travel bag is just similar to a day bag, but just has that extra bit of padding. 
Double Surfboard Bag for Travel
The double surfboard travel bag allows you to carry two boards in your surfboard bag. And this is a great option because then you can carry boards of different lengths for different waves.
So if you're planning to surf slightly bigger waves on your trip, then you can have a bigger step up surfboard in your bag for those bigger days. Note that you will need to still take out all the fins to be able to fit the two boards in. 
But this doesn't take long provided you have the right fin key and you have good quality removable things.
A good double surfboard travel bag will also be 'collapsible'. For example, my FCS surfboard double travel bag that I've had for 20 years has Velcro on it. So I can actually fold it down and Velcro it together to stop it being all loose.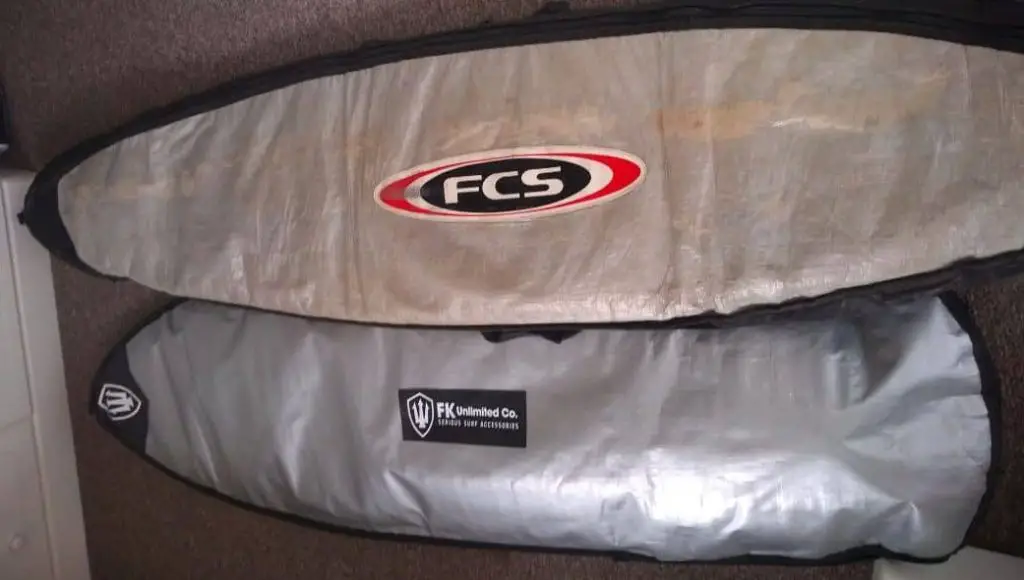 But if you think you'll ever use more than one surf board in a travel bag, then I would strongly recommend going for a double surfboard bag for traveling as that's what I've always done.
Carrying two boards is quite heavy, mind you, but it is worth it if you want to surf the maximum range of waves on your trip. 
Coffin Surfboard Travel Bag
This is getting into the extreme end of surfboard travel. Coffin board bags, as they are known, can carry four to six surfboards for extreme heavy duty and hardcore surfing. 
Mostly this is in the realm of professional surfing, where they need backup boards and boards of many different sizes and lengths. 
But there may be a time when you need to carry many boards. And for this reason, a coffin surfboard bag is an excellent choice.
Most coffin bags will come with wheels because of how heavy they will be when they're loaded up with four surfboards and otherwise trying to carry them would just be too hard.
A coffin board bag will also be the most expensive option in this list given the size and the padding and all the other design features. 
You could pay anywhere from $200-$500 for a coffin surfboard bag depending on how high grade you want to go. 
But if you do this, it's worth spending the higher amount because of how many boards you will be carrying and the value of them. 
But again, I have never traveled with a coffin board bag and I don't intend to simply because of the hassle and weight, but if you do need one, they are there and that is the option for you. 
Buy a Surfboard Bag that Suits the Shape of Your Board
Surfboard bags don't only come in the standard surfboard shape or template, they also come in hybrid sizes and fish shapes as well as longboard and Mini-mal shapes.
Before buying a surfboard bag, make sure you buy one that matches the template of your surfboard and will fit to the boards you have in mind. 
This is because boards like Mini-mal might be seven foot, four long, and have a very wide nose. 
Whereas, you might have a big-wave surfboard that is a short board template, has a very thin nose that would fit a standard shortboard travel bag. 
But many miles in the same length travel bag would not fit at all. So make sure that the template of the board bag matches your boards. 
If it doesn't say a template on the board bag product page, then it's probably a standard shape. So assume that it's for a short board template. 
However, they do give dimensions in their board bags. So you can check those as well to be sure. 
In terms of size, buy a board bag that is six inches to one foot longer than your board to allow for more packing and items to go into it. I say this because you can use things like towels and other wetsuit accessories in your board back to pad your boards and to prevent them from getting damaged. 
So that's a really helpful added thing to have and having the extra lengths would just allow for you to throw a few more things in. 
It depends how big of a travel trip you think you're going to do. But half a foot longer should be perfect because then you've got more room to maneuver. 
And if you're taking two boards in a double board bag, that will also allow for a bit more padding to go around it as well. 
Buy a Surfboard Bag at a Higher Price Point if You Can
Cheaper surfboard bags are thinner and they have problems with cheaper zips and straps that might break. If you can afford it, get a surfboard bag at the higher end of the price range because they will be much better quality than those on the lower end.
However, if you went for a reputable surf brand like surfboard bag by FCS or by Da Kine, then you know that they will be long-lasting and carry your bags without any problems for as long as you need. 
So make sure you are aware of the difference between the different types of surfboard bags.
You can get a budget surfboard bag by a Chinese manufacturer on Amazon for about $40. However, if you left the zips unused for a while, I would expect that either the zips would seize or the straps would break when it's fully loaded, so it's worth paying that extra money for that peace of mind. 
Surfboard Bag on a Budget: Used or Secondhand Bags are a Good Option
If you want to save a bit of money, you can buy a used or secondhand surfboard bag because they're available on websites like Craigslist and eBay, but just check that the zips are in good working order and that none of the straps are broken.
If all the parts are still working and it looks good in the description, then there's not much else that can go wrong. The padding on a surfboard bag should last a lifetime. 
It's just whether the zips work because of the salt water that gets into them that can seize them up or make the zips weakened from rust. 
Otherwise, by all means, get yourself a bargain surfboard bag that is secondhand or used online and save some money from it. 
But again, buy with those reputable brands, brands that make good hardware and leashes, like I said,
FCS
Da Kine
Creatures of Leisure
and others like that.
Surfboard Bags for Boards with Big Fins
If you have a longboard, a twin fin or even a quad fin surfboard, it is worth checking that any surfboard bag you buy is designed for that kind of board.
This is because boards with bigger fins may even need a slot for the fins to come through the bag, which is common on longboard surfboard bags given the height of the standard center longboard fins.
Twin fin surfboards are more of a retro design but also have large fins, so have a look to see if your board bag can handle that kind of board, too.
I know that not all surfboard bags work since I got a free day bag with my Santa Cruz epoxy surfboard, a 3-fin thruster set up, which had slits in it to allow the fins to stick out.
However, I now try to use it with my Firewire Chumlee surfboard, which has 5-fin options and is shorter, and it just doesn't quite work and I can't close it properly, which is fine since it was free, but not something you want in a new bag!