How Much Does a Wetsuit Weigh?
Surfing with a wetsuit is a must for so many surfers, but wearing a wetsuit comes with a few caveats.
From having surfed for over 20 years in cold waters, I've often wondered why this adjustment has been hard, even when the cold water doesn't really faze me anymore.
Yes, the limited flexibility of a wetsuit is something that we all feel, being head to toe in 5mm of rubber is not a normal feeling – but that never alone explained the feeling of sluggishness when surfing in a wetsuit.
However, after taking the time to do a little of my own original research, I can finally add one more clue to the 'surfing in a wetsuit' puzzle, namely by focusing on the following question:
How much does a wetsuit weigh? A women's 5/4mm wetsuit is 2.85lbs when dry, while a men's 5/4mm medium-tall wetsuit is 3.5lbs when dry. These same wetsuits weigh 4.5lbs and 5.5lbs, respectively, when wet, making them both 57% heavier – the impact of this on your surfing will be explained below.
| | | | | |
| --- | --- | --- | --- | --- |
| Wetsuit | Size | Thickness | Dry weight (lbs) | Wet weight (lbs) |
| O'Neill Psycho One | Medium Tall (MT), Men's | 5/4mm | 3.5lbs | 5.5lbs |
| Rip Curl | Extra Small (XS), Women's | 5/4mm | 2.85lbs | 4.5lbs |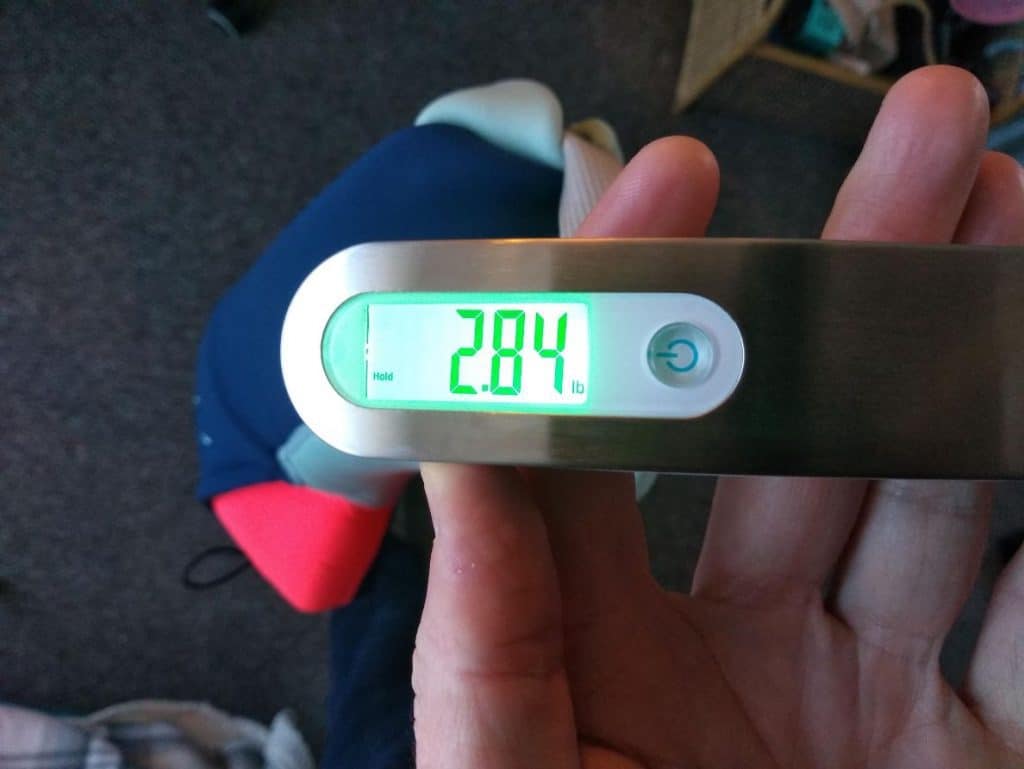 What does this extra weight mean for surfers?
The significant 57% increase in wetsuit weight when wet shows that surfers wearing winter wetsuits need to be prepared for the extra burden that comes with winter surfing.
Added to this is the thickness of the wetsuit, making it harder to move, and the colder temperatures, again reducing mobility.
Check out my dedicated article for 11 tips on how to surf in cold water!
If you're going to be surfing in slightly warmer water but still need a wetsuit, then here's more on what to expect when surfing in 60 degree water!
It's also a reminder that winter surfing requires a heck of a lot more effort when compared to surfing in boardshorts alone, so remember that when the colder months are getting close and start your training regimen early (or just keep it going year round!)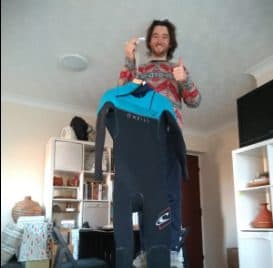 How much heavier is a wetsuit when wet?
The 2 different winter wetsuits weighed were exactly 57% heavier when wet, going from 3.5lbs to 5.5lbs in the 5/4mm men's wetsuit and from 2.85lbs to 4.5lbs in the size 8 women's wetsuit.
Such a consistent increase is quite amazing when you think about it but perhaps less when remembering that both are made with the same materials.
The fact that a surfing wetsuit is 57% heavier when wet (ie. when you are in the surf!) shows that you need to have at least a moderate level of physical fitness for surfing. I would also recommend weights or resistance training as part of your surfing training.
How much do winter surf accessories weigh?
To go further and get an accurate idea of how much total added weight surfers in cold water will be faced with, I also weighed all of my winter wetsuit accessories, both wet and dry.
The total weight of all my winter surfing gear when wet came to 9 pounds (4.1kg), which is a huge amount of added weight for any surfer to contend with on top of the difficulty of remaining flexible and nimble in thicker wetsuits and colder water. See the table below for the full breakdown:
| | | |
| --- | --- | --- |
| Surf Accessory | Size | Wet weight (lbs) |
| O'Neill Psycho One Winter Wetsuit | MT (men's), 5/4mm | 5.5lbs |
| Billabong Wetsuit Booties | 11 (men's), 5mm | 1.75lbs |
| Xcel Wetsuit Gloves | Large (men's), 1.5mm | 0.4lbs |
| Sola Wetsuit Hood | Large | 0.3lbs |
| Decathlon Thermal Wetsuit Undershorts | Medium | 0.45lbs |
| Billabong Furnace Thermal Vest | Medium | 0.6lbs |
The above are all the accessories I wear when surfing in my local area, where it gets down to about 43°F (6°C) in the depths of winter.
For more on these items, check out my page with a breakdown of all the surf gear I use at different times of the year here now!
How these wetsuits were weighed
For clarity, all weighing was done with a simple luggage weighing scale from Amazon, and wetsuits were weighed both when dry and then immediately after a surf.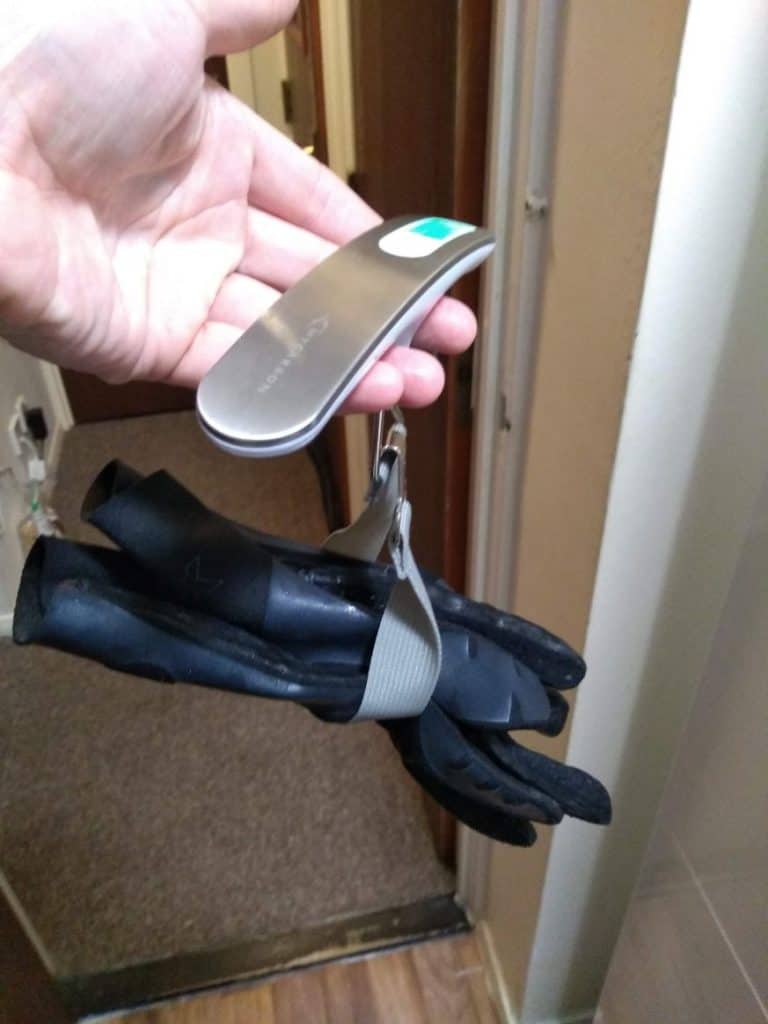 In fact, as you can probably see from some of the photos, the wet weight photos were taken in my bathroom.
These were after washing the wetsuits so they likely had as much water in them as if they were in the sea.
Results have been rounded up or down to the nearest 5 or 10 pounds to help with calculations, but most were very close to a round number, meaning that this should not skew the numbers shown here by much.
Do lightweight surfing wetsuits exist?
No, not yet, but premium surf wetsuit brands use the best quality materials and they factor in weight as part of their material selection process, aiming to find the most durable, technical and lightweight materials for their more expensive wetsuits.
My dedicated wetsuit buying guide explains the key points to think about when looking for the right wetsuit for you, so check that out now if you're looking for more insight on surf wetsuits!
Related Content