Best Wetsuit Drying Racks: All Options
Heading out for a surf is immense fun and can make your day, even when the conditions are cold wet and windy.
 However, surfing in colder Waters means wearing a wetsuit, which also means finding a way to dry your wetsuit before your next session.
For which reason, many people ask what is the best wet drying rack? The best wetsuit drying rack I've found is actually a laundry hanger that I place in the bath overnight after washing my wetsuit. There are specific wetsuit hangers, but these are not quite as good, as will be explained below. 
UPDATE: Since writing this post, the C-Monsta wetsuit, boot and glove hanger has come out and it's brilliant, I have to say. Hats off to Mark, who designed it – it's a great bit of kit and now my recommended wetsuit hanger. I bought one for myself, my wife and my brother and we all use it all the time.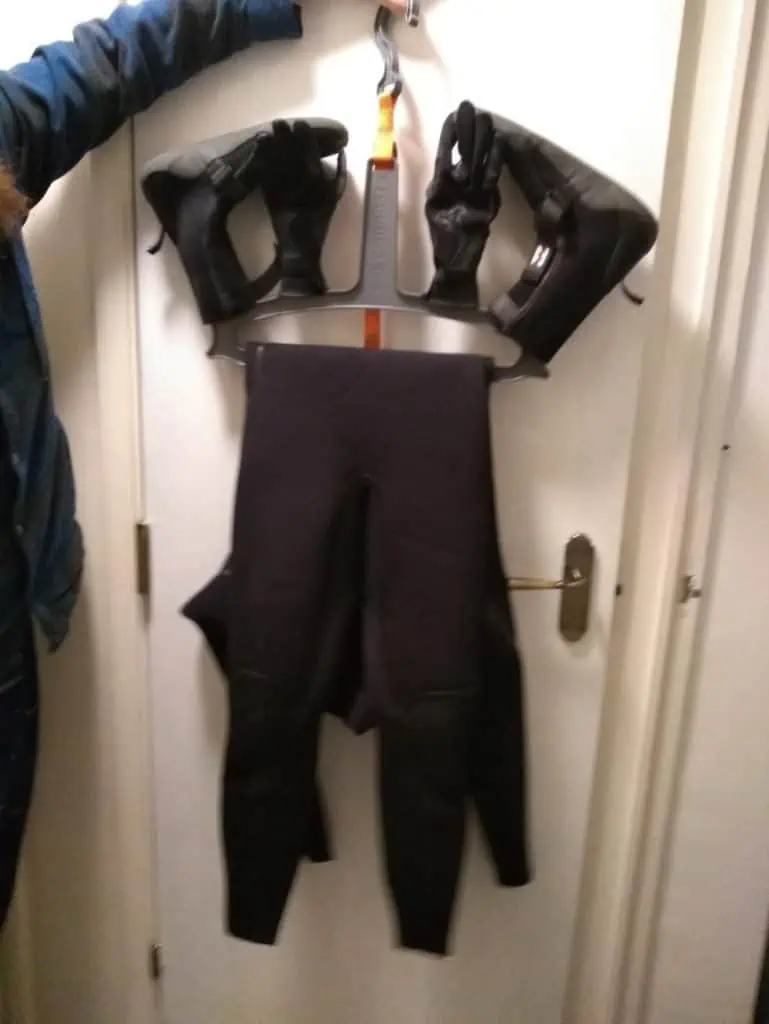 Wetsuit Drying Rack I Use
The best option in this list for a wetsuit drying rack is a foldable gul-wing laundry rack from Amazon because it is sturdy, has enough 'hanging' area for all our gear and can be put outside. It also folds away when not in use.
I have been using a laundry rack like this for the last 5 or 6 years as I have found this to be the best option for drying my surfing wetsuit. This was after trying many different alternatives over the years.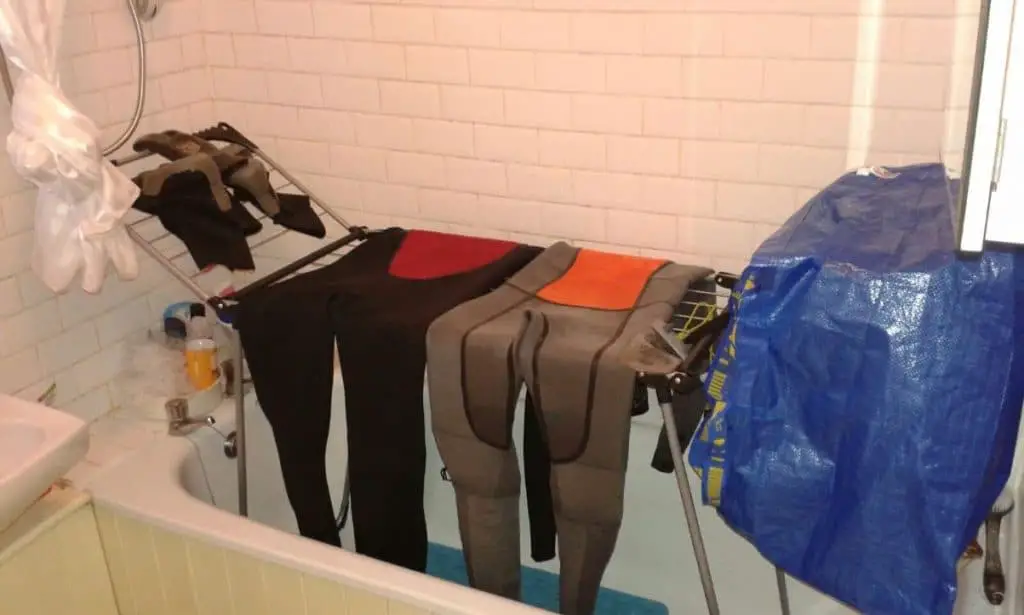 The benefits of using this kind of drying rack for your wetsuit are that it is:
cheap
ready-made
collapsible/foldable
readily available if you ever need to replace it
you can also use it for your laundry! 
As you can see in the image above, with both mine and my wife's winter surfing gear drying on the rack, we place this in our bath as it then allows for drips from the wetsuits to run off without staining or damaging carpets and floors.
We leave this overnight and then turn the wetsuits over in the morning, before leaving them for another few hours and then turning them inside out.
Although I cannot find any exactly like this online to share with you, the closest I can find is this laundry drying rack with great reviews over on Amazon that should do a good job for drying your wetsuit and surfing gear in those cooler months of the year.
If that exact one above is out of stock when you check, than any similar shape or any of these from Amazon again should be absolutely fine and do the job perfectly well.
The only downside to this kind of drying rack for your wetsuit is that it is made of metal, meaning that there is potential for rust over a long period of time.
That said, I have only recently noticed a small amount of rust on the drying rack pictured here – I've had it at least 6 years now and can say it has worked a charm!
Wetsuit Drying Rack for Small Spaces or Apartments
You can also go for a taller option, like this 3-tier laundry rack over on Amazon, if floor space is at a premium or if you don't have a bath.
We have one of these racks, too, and alternate between them depending on what laundry we have hanging out to dry.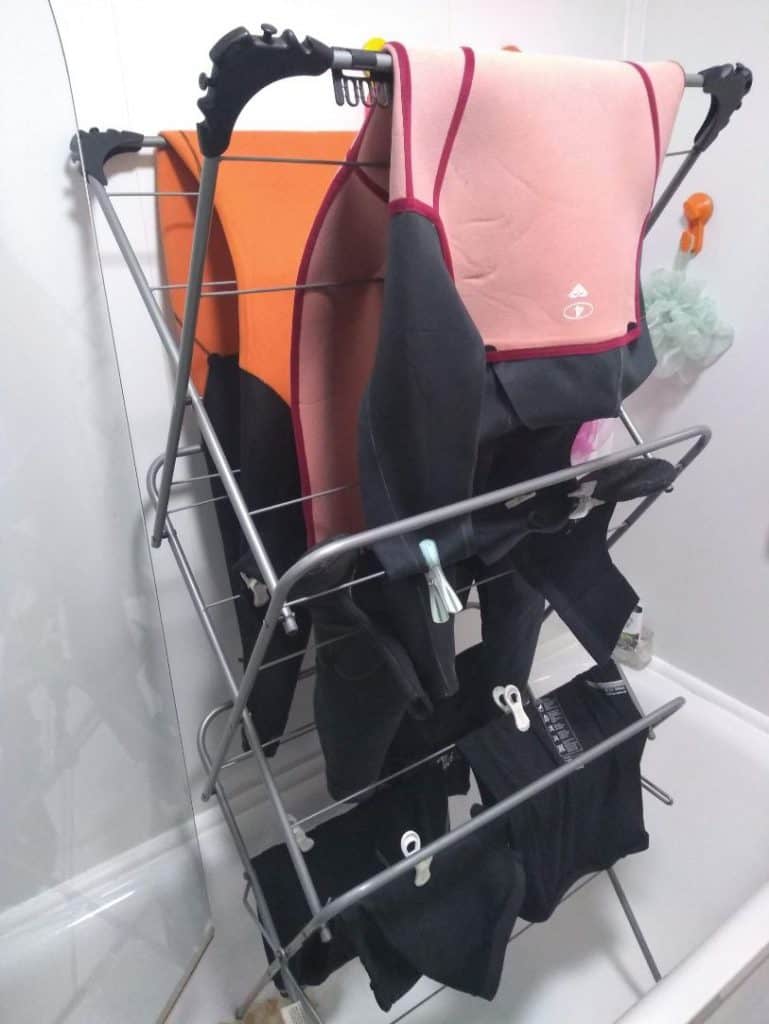 That said, be sure to measure the floor space of this rack since I can't be 100% sure that it will fit as I don't have a walk-in shower to be able to measure it!
The two things I don't like so much about the 3-tier drying rack option (we have one of those, too), is that it is a little more likely to tip when outside with wind and it also doesn't fit our bath as well as the gull-wing version above.
Either way, one of Amazon's high-rated 3-tier laundry racks for drying your wetsuit will still do in a pinch and is better than nothing!
---
Wetsuit Drying Hanger
There are not many specific wetsuit drying hangers on the market, but the HangAir is is one solution that is currently available for surfers on Amazon.
This works as a durable and extra large coat hanger with an inbuilt waterproof fan that circulates the air to dry your wetsuit much more quickly.
Obviously, being a coat hanger by Design you can hang this up in your car or wherever you need to start the drying process, but it still means getting a few drips wherever you do it!
You can see more on how the HangAir works in the video below (albeit for a scuba channel but the idea is the same)
A more budget option that is probably suited to most people is is a standard wetsuit hanger without the fan as this is designed to spread out your wetsuit to help the drying process.
For example, this wetsuit hanger from the guys at Ho Stevie! is a great option again on Amazon.
As you can see, this works to ventilate the suit that also keep it dripping dry. it also extra durable to hold heavy surfing wetsuit.
The other alternative is the Hang pro Wetsuit Slider (Amazon), which although designed for wetsuits does not look like it will dry as quickly as the ones above because it won't spread out your wetsuit as well, although it will hold it and work in a pinch. 
---
Wetsuit Drying Rack DIY
As there are many different ways of doing this, I've put together some of the best on a similar Pinterest board which you can see here (be sure to follow Surf Learner over there, too!)
Most of these use PVC parts, as we'll look at below.
PVC Wetsuit Drying Rack
Quite a few people have made their own wetsuit drying racks out of PVC piping and connectors, which could be a great option if you like the DIY route.
 As you can see in the video below, you can design this to your needs and make a rack that will dry both your wetsuit and all your accessories in one go.
---
Wetsuit Drying Rack for Your Car
There is not really a specific solution for drying a wet to in your car ba.com uh-oh although one option comes as close as can be.
The Malo'o Portable Wetsuit Drying Rack on Amazon is a versatile and durable option for drying your wetsuit on the move, and also on the side of your car.
This Folds up and packs away very quickly and easily, meaning that it won't take up any space in your car.
The only downside to this kind of wetsuit drying rack is that you need to be careful that the salt water from your wet to does not drip onto the surface of your car.
This could obviously have a negative effect on the bodywork of your car overtime, although that would take a long time to notice! 
---
Wetsuit Drying Rack for Your Garage
There are many different options for having a wet to drying rack in your garage, and it really depends on how and where you would like to place it.
For example, you can:
Place a laundry rack recommended above for your wetsuit in your garage new line
Put one of the DIY PVC wet to drying rack options there
Or drill a frame or hanging options into the wall or ceiling
The video below shows one solution made specifically for a garage, using PVC piping and hot air from a fan that funnels through.
This also then combines with hangers above to keep the wetsuit in shape, while also allowing for all the other wetsuit accessories to dry on the same pipe.
---
Outdoor Wetsuit Rack
The best option for an outdoor wetsuit drying rack is either PVC piping or or some kind of metal laundry frame, if you have shelter for it from the rain.
PVC piping will not rust or get damp, obviously,  so this means it is the most versatile and durable of the wetsuit drying options.
The Malo'o portable wetsuit drying rack (Amazon) is another great option here as it can be perched or hung on just about any notch or hook, while its material means that it is protected from the elements.
You could use a wooden frame for your outdoor wetsuit rack but you will probably find this becomes mouldy and waterlogged after a few months of leaving it outdoors in moisture, and perhaps even forgetting to bring it in from the odd shower!
---
Related Questions
Is it easier to put on a wetsuit wet or dry? It is easier to put wetsuits on dry because your feet and hands will slide through. When wet, wetsuits tend to cling to you and the moisture can cause a sticking sensation, making it that much harder to put on the arms and legs of your wetsuit.
That said, if your body is wet or sweaty, even then putting on a dry wetsuit might also feel uncomfortable and slower than normal!
To help with this, Try out this awesome solution from WetSox over on Amazon as they are designed to help you put your feet into a wet wetsuit with ease!
Related Content
If looking for more, be sure to check out my article on the fastest way to dry your wetsuit in winter!