Mid-Length Surfboard Fin Set Ups – Best Fins for MAX FUN!
I got myself a mid-length surfboard in late 2021 after watching a lot of Torren Martyn styling his way around the globe surfing perfect waves, with a clip from the brilliant series 'Lost Track Atlantic' shown below.
But a few things I noticed was how he was he was using all his mid-length surfboards in a twin fin set up and that he was having to hold his outside rail on bottom turns to help him control it.
This made me think about the best fin set-ups for my new mid-length surfboard, so here are my thoughts after a lot of thinking and trial and error.
2 + 1 Mid-length Surfboard Fin Set-up
2+1 fins means one large center fin with two small side fins and is a common set-up in mid-length surfboards. This offers the cruisey feel of a retro single-fin surfboard with added control from the side fins. You could use a smaller center fin with FCS GX or Futures SB1 side fins to make this set up.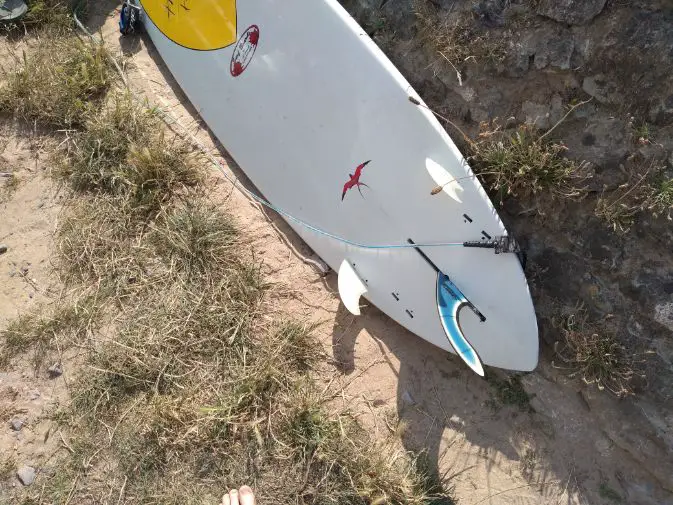 Personally, I don't like this set-up so much in my mid-length as it feels very stiff and just goes straight, making it hard to control.
I also tried out a 6.5″ FCS center fin with FCS GX side fins in my new mid-length, the 7'2 Takayama Egg (45L in volume). I did not feel that this was any different to riding the board as a single fin, so it just felt strange and not practical for me to ride my mid-length with 2+1 fins.
See my helpful post with a mid-length fin size guide for more on this!
That said, mid-length surfboards go well in medium-sized good, long waves like point breaks with this kind of set-up the go-to option for well-known mid-length surfers like Devon Howard, who you can see doing some beautiful mid-length surfing on a point break below.
Thruster Set Up
A thruster fin set-up is when you use three standard-size shortboard fins and this works well in a mid-length (it's my personal choice, too). To achieve this, you will need a fin box adapter to convert the longboard fin box to a standard FCS or Futures one.
The best thruster fin set for a mid-length surfboard is any that has a standard design and is made for bigger or heavier surfers. This is because you will be riding a much bigger board than usual relative to the fin size, so you want to increase the size of the fins with the board.
This is easy enough to do but you will need to buy a longboard fin box adapter separately as they do not come with surfboards.
Currently, only FCS longboard fin box adapters are widely available but you can also find one by Weirdo Fins to convert from a longboard fin box to a Futures fin box (I bought one of these recently).
I have both FCS and Futures longboard fin box adapters for this reason and like to use my FCS AM2 fins with my Takayama Egg mid-length surfboard in a standard thruster set-up as it means cruisey surfing with more ability to turn than any of the other fin set-ups mentioned here.
You can also see Kevin Schulz riding a Harley Ingleby Mid6 mid-length surfboard in the video below with a thruster fin set-up and you will be amazed at how high his level of surfing is.
Twin Fin
A twin fin set works well in a mid-length surfboard and offers fast and loose surfing. It's also been popularized by Torren Martyn, surfing exclusively twin fins in the recent excellent surf trip movies by surf accessory brand, needessentials, on Morning of the Earth surfboards shaped by Simon Jones in Australia
You can see Torren styling his way through Central American surf on his mid-length twin fin set-ups in the 'Thank You Mother' surf movie below.
Notice how he grabs his rails on the bottom turn of these powerful waves to help his board through the turn – this is to make up for
Twin with Small Trailer Fin
Twin fins with a small 'trailer' fin work really well in a mid-length surfboard. You can get a dedicated 'twin fin + trailer' set from all the major fin brands but you could also mix and match
A good twin fin plus trailer set for any mid-length is Kelly Slater's own brand Endorfins twin with both a trailer fin and 'knubster' fin, meaning you can use it as a pure twin, twin with trailer or twin with 'thumb'.
You can see Kelly Slater talking about the development of this set, initially for shortboards but no doubt they would be brilliant in a mid-length and I am hoping to get some to try them out very soon.
As Kelly himself says at the start of the video about having a small trailer fin with his twin fins, he likes to have "just a little thumb any kind of little third fin just to stabilize a little bit so you don't get that kind of like drift at the end of a twin fin turn".
I think you'll agree that it looks like it's working pretty well!
Quad Fins for Mid-length Surfboard
Some mid-length surfboards may come with 5 fin box options, allowing you to choose between a wide range of fin set-ups listed here, including quad fins.
Quad fins on a mid-length are good if you want to go fast, either in point breaks or in weaker waves.
I've ridden my wife's Takayama Scorpion 7'2 mid-length surfboard as a quad fin set-up many times and works really well, especially when the waves are weaker (we don't have many point breaks near us, unfortunately).
You can also see Ion Aguirre's video of him enjoying some mellow longboard-type waves on his mid-length quad set up below, and I think you'll agree that it looks stylish and effortless, being a good combination.
Single Fin Set-up for a Mid-length Surfboard
A large, longboard single fin is the classic mid-length surfboard set-up as these were the high-performance shortboards of the 1970s before boards got shorted and fins got put in other places than just in the middle of the board.
Surfing a mid-length with a pure single fin gives a taste of what surfing was like some 40 years ago where the boards were bigger and the crowds mellower.
A mid-length with a single fin means straighter lines and not many turns, but is a good fin set-up if you have longer, point break waves and just want to cruise.
For me, this feels a bit too rigid but I am biased as I don't have many point breaks to try it out on
Best Fin Sets for Mid-length Surfboards
Endorfins Twin + 2 (with Trailer and 'Knubster' Fin)
FCS 2 AM2 Thruster fins (with longboard fin adapter)
Futures Thermotech Perfomance Longboard Fin (7 inch) – with or without side fins
FCS GX Side Bites (side fins only)
Futures SB1 (side fins only)
If you unsure about size, check out my super helpful guide to mid-length surfboard fins! (and for longboards, too!)