Longboard and Mid-length Surfboard Fin Size Guide
Fin sizes for longboards and mid-lengths can be confusing with all the different options so here's my guide to simplify the process for you and keep it straightforward to help you get out in the water having fun.
Longboard Fin Size
Generally, the fin should be similar inches in height to the length of the board in feet, so for a 9-foot longboard, get a 9-inch center fin. For a 10-foot longboard, a 10-inch center fin, and so on. This will work for nose-riding but you could add an extra inch for extra stability when up on the nose.
For progressive longboarding where you will be doing turns, try for a slightly shorter center fin, so a 9-foot longboard with an 8-inch or 8.5-inch high center fin. This shorter center fin will then allow for more turns
However, you can use a smaller center fin if you are using side fins in your longboard set-up because the side fins will add stability and control. For example, a 9-foot longboard with small side fins means you could use
This means the following works for your longboard fin sizes:
9 foot longboard for noseriding: 9″ center fin
9 foot longboard for progressive surfing (turns): 7.5″-8.5″ center fin
9 foot longboard with side fins: 7-8″ center fin
Side Fins for a Longboard Surfboard
FCS GX side bite fins are designed to be side fins on a longboard and they work well. Futures fins SB1 side bite fins work for any side fins with Futures slots (although the majority of longboards seem to come with FCS fins)
Alternative Fin Set up for Longboard Surfboards
If you want to go wild and try something truly alternative with your longboard fin set up, try the Takayama Halo center fin with the Halo side bites – you can see this in the video below and it looks wild!
Mid-length Surfboard Fin Size
Get a center fin for your mid-length surfboard that is a little taller in inches as the board is long (in feet). So, a 7'6 mid-length surfboard would work well with an 8 to 8.5-inch tall center fin. Get a smaller center fin if you want to use side fins on your mid-length, like a 7 to 7.5-inch center fin.
To save money, if you go for a center fin of an 'in-between' size, you can then use it with or without side fins on your mid-length, meaning maximum fun without costing the earth (surfboard fins are expensive after all!)
From my own experience, I've just bought a 7'2 Takayama Egg mid-length surfboard and I will be buying a 7-inch tall center fin and using my FCS GX side fins on the sides.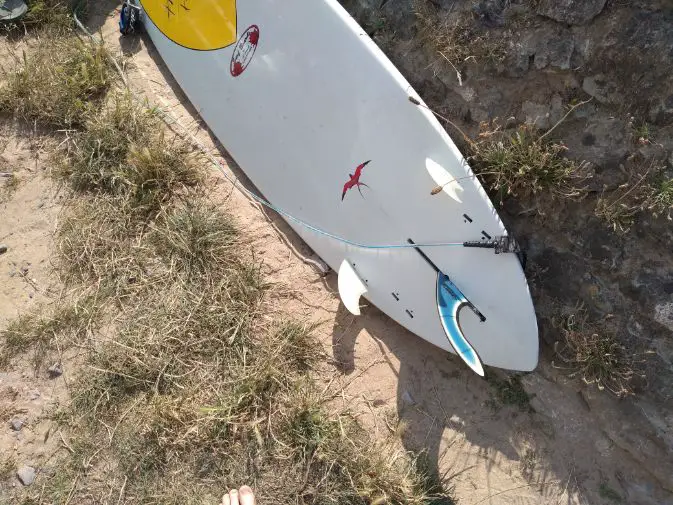 In summary, the size guide for your mid-length surfboard's center fin for an average-sized surfer:
7'6 mid-length as a single fin: 8 to 8.5-inch tall center fin
7'6 mid-length with side fins: 7 to 8-inch tall center fin
7'6 mid-length all-round center fin size: 8 inches in height
Pro Surfer's Mid Length Fin Size: Devon Howard
Californian pro surfer and mid-length aficionado Devon Howard rides a 7'0 long mid-length with a 6.5 inch center fin with two 4-inch side bite fins. Note that he uses his mid-length boards mainly in chest-high to overhead waves in California, as per an interview he did with MagicSeaweed.
'Side bites' are smaller side fins longboard riders refer to as the supporting fins that they use in bigger boards. Fins like the FCS GX or GL side bites, or Futures fins SBL are common side bites.
Alternative Fin Set up for Mid-length Surfboards
If you like to experiment with fins, try twin fins with a small, trailer center fin in your mid-length surfboard if you want to get a speedier, more responsive ride, like the Glen Pang FCS Twin fin with trailer fin set.
I first saw Colin McPhillips riding this alternative mid-length fin set up on the Surftech YouTube video 'Mid-length Madness' while testing the Takayama Egg 7'6 mid-length. You can see this video below – skip to 2m05s and you will see what I mean.
Side Fins for a Mid-length Surfboard
GX side bites for FCS fins or Futures SB1 side bites both work well, depending on your fin boxes. You could also try FCS Bonzer fins or even the Knubster as side fins – anything short and stubby for a different feel.
You can see the Surfboard Guide on Instagram post below with an interesting alternative fin set up, too.
Remember that you can get creative with fin set-ups and just try things out – although most combinations are tried and tested, there are still plenty more to try so get creative!
I've also added a dedicated post for mid-length fin set-ups to help you get max fun – check it now!
Key Points on Longboard and Mid-Length Surfboard Fins
Remember that these fin size will depend on your height and weight relative to the length, or more importantly volume of your chosen surfboard.
If you are on the upper end of the recommended weight range for a given board, go for a larger fin, but if you're on the smaller end, you can go for a smaller fin.
Similarly, smaller fins will allow for more maneuvers but less control on a wave whereas bigger fins will mean more stability but less turning ability.
Choosing the right size fins for your longboard or mid-length surfboard then really depends on what you want from your surfing and how big or small you are compared to the board.
Ultimately, fins often involve trial and error across a range of different surfing conditions so go for something in the mid-range to start off, see how you go, and progress from there.
Remember that fins are easy enough to sell on to other surfers on places like Facebook and they are quite easy to post, so it's not a major hassle if your chosen fins just don't quite work for you.