What Temperature to Surf in Boardshorts
In terms of knowing what to wear in surfing, this can be a tricky thing, especially if you're new to the sport and don't know all that much about it. 
Specifically what to wear as the water warms up or even in a tropical climate. Yes, we all know that we need wetsuits for cooler temperatures, but when it comes to warmer temperatures, how to get the right balance. 
So the first question, what temperature to surf in board shorts? Above 22 degrees Fahrenheit is enough for board shorts plus a wetsuit top for most. 
Although for those who are used to the cold, you can get away with a board short plus wet top from as low as 66 degrees Fahrenheit, but that is an extreme. 
So let's explain a bit more now about wearing board shorts for surfing and all the different things you can wear with them to add a bit of extra warmth if needed, or stay cool in warmer temperatures.
66 degrees Fahrenheit, minimum temperature for board shorts for surfing.
If you go surfing in board shorts in 66 degree water, you can have a pleasant surf if you add a few extra things, and if you are already used to the cold. 
I say this because most people will not be comfortable until the water gets closer to 70 degrees Fahrenheit to wear board shorts for surfing. 
When you're surfing, you stay out in the water a long time, you sit on the surface, and you are susceptible to feel the wind chill. So even water that feels quite warm or pleasant when you just dip in it, is very different when you are surfing in it. 
If you're going to wear board shorts in this lower end of the temperature range, then you'll also want to get a wet suit top to go with it. These are basically the top half of a wetsuit, but only 1.5 millimeter or two millimeter thick. 
Because they're only the top half, you still have a lot of flexibility. The comfort wearing board shorts combined with the added warmth of a wetsuit top or jacket.
I would also recommend wearing some thermal wetsuit shorts (Amazon) under your board shorts in this temperature, as this is what I've done in these temperatures in the past, just for an hour-long surf. 
It has been okay on a windless day, although on a strong breezy day I wouldn't wear this. I would go for the next level up, as we'll look at below. 
Equally, if you're planning to surf all day, then a shorty wetsuit would be a better option, or a short sleeve or short arm wetsuit in this temperature range. Because you will be able to surf for much longer with these and be more comfortable.
Wetsuit Tops to Go With Your Board Shorts for Surfing
As mentioned above these are generally one to two millimeters thick, and they are just the top half of a wetsuit. I really like these options for when the water's just a bit cool in board shorts alone. They also add some buoyancy as well. 
So when you get wiped out, they will help you float, because neoprene and wetsuits in general do help you float, which is something you don't appreciate until you go surfing in board shorts without any kind of neoprene, and you realize the added buoyancy that your wetsuit gave you.
I have an O'Neill Guru wetsuit top and a Billabong one. The O'Neill one has lasted me for over 10 years and has been an excellent choice. Now check out my dedicated post on wetsuit tops for more information on these, if you want to get one.
I lived in Bali for nearly three years, and in the dry season the water temperature is around 75 degrees Fahrenheit or 25 degrees Celsius. I would wear a wetsuit top and board shorts in the dry season for these temperatures. 
This was the perfect combination for me. Also after living there, I acclimated to the local temperatures as well. So if you're used to warmer temperatures, that would be a recommended range. 75 degrees Fahrenheit for boardies and a wetsuit top. 
However, in the wet season in Bali, the water temperature goes up to 78, to 80 degrees Fahrenheit, or 27, 28 degrees Celsius. 
In that case you will only need board shorts and a rash guard for some protection if you have sensitive skin, or even topless if you are sure that you can be safe in the sun. 
I actually found the wet season in Bali at 78 to 80 degrees Fahrenheit a little bit too hot, and often you can feel like you're sweating. So board shorts are perfect for the wet season in Bali, and you will never feel cold even on the windiest, wettest days.
Getting Good Board Shorts for Surfing is Essential
You might think the board shorts are just all one and the same, but really you do need a good pair of board shorts if you're going to surf in them. 
The main problem I've found from cheaper board shorts is that they rub and give you a serious rash around your inner thighs when sitting upright on your board, and also the pull cord around the waist can be a major problem, as well as the waistband if they are not made by a good surf brand. 
When choosing your pair of board shorts, look for ones that will be fitting, but not too tight to restrict movement. Good brands for surf board shorts are :
They all make really good boardies for surfing. 
I currently have the Billabong Bob Marley series that have lasted me many years, and they also look pretty cool out of the surf as well. So I'm happy to wear them at other times.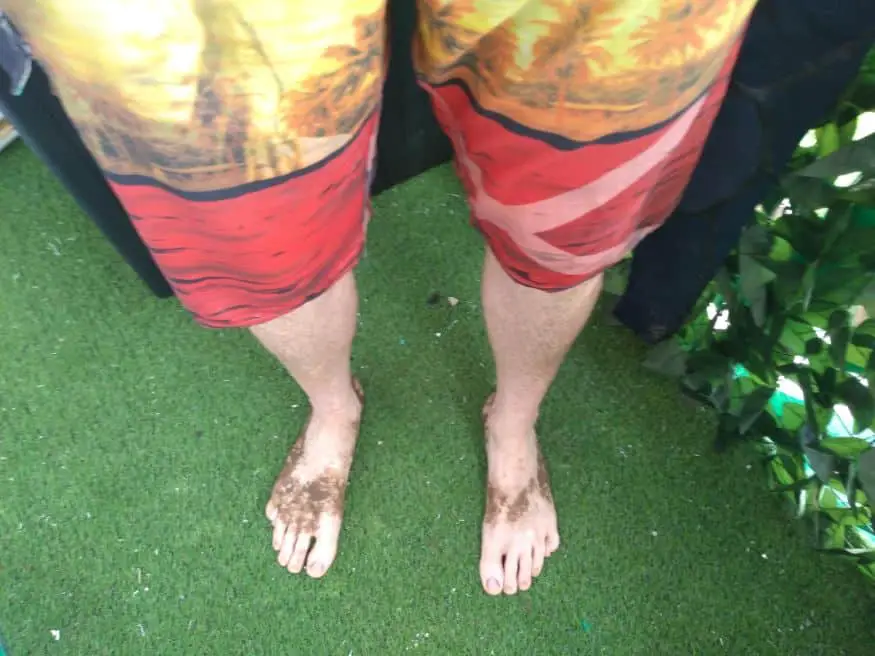 Features of Good Board Shorts
Good board shorts should have the cord so that they are pulled in a four way direction. You will see this in the product descriptions, so that the drawstring is only at the front and not around the entire waist. 
If the draw string or draw cord goes around the entire waist, then these will be likely to slip off. So look at the design of the draw cord for any good pair of surfing board shorts before you buy them. 
They'll also have a pocket with a key cord, so you can put your key in there, or any other items while you're surfing, and it should have a good strong velcro fastener or zip closure. Both of these are fine, but note that you will only use a pocket that is around the knee, not on the behind. 
Because if you have a pocket on where your bum is, you will be sitting on it, and that will be extremely painful. So don't think that is a good place for a key pocket.
Other features to look for in surf board shorts are ones that are fast drying, and this will come with the material used by the surfboard manufacturers. 
So you don't need to worry about that, but do spend at least $50 on a good pair of board shorts, because you want a technical pair if you're going to surf a lot. If you go too cheap, they will probably rub and just come off or break quite quickly. 
You do not want ones with any kind of mesh or netting, as this can get very uncomfortable. Most surf brands won't have this in their board shorts anyway.
The Limits of Surf Board Shorts
I should add that all the board shorts I've had do rub a little bit on the inner thigh, but a lot less than the cheaper ones. This is due to the way you sit on a surfboard, and your legs will be rubbing quite tightly on the rails of the board as you sit upright. 
So if you're going to surf for a long time there is no way to avoid this kind of rub, and it is just part and parcel of the surfing experience in board shorts